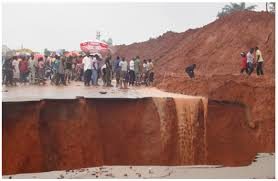 The Mekera Community Development Association of Hayin-Dogo, Samaru, in Kaduna State has appealed to the state government to rescue the community from the gully erosion plaguing the area.
The association's Chairman, Capt. Emmanuel Osuji, made the appeal on Thursday in Samaru, Sabon Gari Local Government Area of Kaduna State.
He said that the gully erosion was as a result of an abandoned road reconstruction project at Cemetery Road at Makera in Samaru District.
Osuji expressed regret that the erosion had now become a threat to the lives of all the people living in the area.
"Cemetery Road is an important major road which links the community with the burial ground for both Muslims and Christians but the road project, which started in 2013, had since been abandoned.
"The abandonment of this project had left the people's lives at risk.
"We, therefore, wish to call on government at all levels to come to our aid in order to save the lives of the citizens.
"The project is a constituency project, initiated by the lawmaker representing Sabongari in the House of Representatives, Rep. Muhammad Datti-Babawo, but along the line, it was abandoned,'' he said.
Osuji said that the essence of forming the association was to contribute to the development of the area through communal efforts.
Also commenting, the association's Patron, Ustaz Ibrahim Aliyu, said the entire community of Hayin-Dogo in particular, and Samaru in general, had no access to the burial ground other than through Cemetery Road, hence the call for the government's assistance.
"The abandoned road construction project made it possible for all water coming from different directions to accumulate at the tail end of Cemetery Road; that's what induced the devastating gully erosion.
"This project is so huge that our association and even the entire community cannot even afford to complete its execution.
"We, therefore, plead with government to revisit the construction site to avert the dangers that could emanate from the site,'' he said.
Aliyu said that the association had spent some money to check the erosion from causing further damage but the association was constrained by paucity of funds, as the project was beyond its capacity.
All efforts to speak with Rep. Datti-Babawo on the project were futile.

Load more