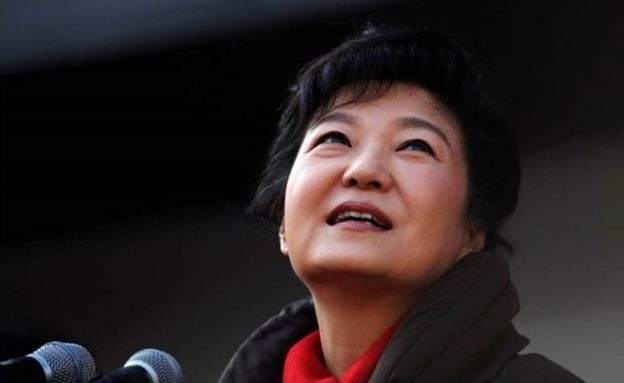 Over seven out of 10 South Koreans supported the arrest of ousted President Park Geun-hye over a corruption scandal that led to her impeachment, a Realmeter survey released on Thursday.
According to the survey, 72.3 per cent agreed with a custody investigation into Park, almost tripling 25.1 per cent of respondents against the detention.
It noted that almost 90 per cent of those in their 20s to 40s supported Park's arrest, while 52.3 per cent of those in their 60s or older opposed it.
It said that the result was based on a poll of 5,753 voters conducted on Wednesday.
It has 4.3 percentage points in a margin of error.
Park was summoned on Tuesday by prosecutors for questioning, becoming the fourth South Korean former president to be grilled.
The constitutional court unanimously ruled on March 10 to permanently remove Park from office, making the first female South Korean leader become the first president to be ousted through impeachment.
Park has stayed in her private home in a southern district of Seoul since March 12.
A local media said prosecutors are weighing the arrest of Park and are expected to announce whether to take the former leader into custody early next week.
Prosecutor-General Kim Soo-nam told newsmen upon his arrival in his office in Seoul that whether to detain Park will be decided based on law and principle.
Report says expectations are running high for Park to be detained given the high number of charges levied against her, a full denial of all charges and the graveness in her violation of law.
Park has been branded as a criminal accomplice to her longtime confidante Choi Soon-sil, who is now in custody, for multiple charges including bribery, abuse of power and extortion.
However, a total of 13 charges were levied at Park.
"If convicted of the bribery, Park would be sentenced to no less than 10 years in prison,'' it noted.
Samsung Electronics Vice Chairman Lee Jae-yong has been taken into custody for his involvement in offering tens of millions of dollars in bribes to Choi.
It said the bribes were in return for receiving assistance to inherit the management control of Samsung Group, the country's biggest family-controlled conglomerate.
Choi is charged with extorting tens of millions of dollars from scores of business conglomerates to establish two nonprofits foundations she used for personal gains.
She is also accused of meddling in state affairs behind the scenes by receiving government documents with state secrets on a regular basis from one of Park's former presidential secretaries.
Park has denied all the charges, saying the truth will be revealed though it takes time.
Dozens of former senior government officials and presidential secretaries have been in custody for involvement in the influence-peddling scandal.
Meanwhile, concerns are raised that strong backlash could come out from conservative politicians if the former president appears on TV dressed in a prison uniform and handcuffed.
"It could influence the upcoming presidential election scheduled for May 9.
"Not a few elderly, conservative voters still regard Park Chung-hee, the ousted leader's father, as an icon who led the country's industrialisation.
"The memory of old voters toward the elder Park, who had ruled the country for 18 years before his assassination in 1979, helped the younger Park win several elections, including the 2012 presidential election, in past decades,'' it added.
The younger Park still has a handful of elderly, conservative supporters who feel pity for her loss of parents in her 20s and believe Park's impeachment is not legitimate.

Load more