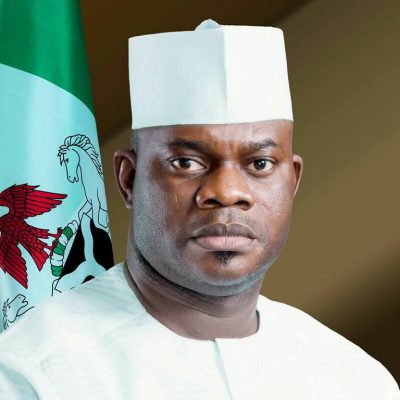 Gov. Yahaya Bello of Kogi says it has become a policy of the state government to clear land for farmers to boost agriculture and transform it into a business initiative.
The governor said this on Friday when he inaugurated a factory that would process cassava peels into animal feeds in Ojapata, Ankpa Local Government Area of the state.
Bello, who was represented by his Special Adviser on Agriculture, Mr David Apeh, said that his administration had also declared a state of emergency on the agriculture sector.
"We want to use agriculture to create jobs in the state; it is now a policy of the state government to clear lands for farmers, as no farmer can clear much land with hoe and cutlass.
"And as part of efforts to encourage farmers, the government has ordered 500 tonnes of fertiliser for distribution from this month."
Bello said that a bag of the fertiliser would not cost more than N5, 000, urging the citizens to engage in agriculture and cultivate the vast arable lands of the state.
Speaking, Prof. Samson Aribido of Kogi State University, Anyigba, lauded the state government for its efforts to turn around the agriculture sector.
Aribido said that his institution, in collaboration with Synergos and other stakeholders, would examine ways of fortifying the products of the factory with essential vitamins and minerals at the institution's feed mill.
Besides, Mrs Bolanle Amupitan, the Commissioner for Women Affairs and Social Development, expressed delight at the joint venture which led to the conversion of cassava peels into animal feeds.
Amupitan, who was represented by Mrs Abisetu Agada, the Acting Permanent Secretary of the ministry, said that the factory also provided an opportunity for women to better the lot of their families.
Mr Paul Ogunmola, the state Coordinator of Fadama III, in a goodwill message, said: "The inauguration we are witnessing today is an eloquent testimony that a journey of a thousand miles starts with a step.''
He noted that the location of the factory was informed by the availability of raw materials, functionality of cluster groups and friendly disposition of the residents of the host community.
The Manager of the factory, Mr Ali Ogalagwu, commended Synergos as well as the federal and state governments for their efforts to improve the livelihoods of the people of rural communities.
He, however, urged the government to provide electricity for the use the community and the factory.
The Onu Emekutu, Chief Hassan Shaibu, the traditional ruler of Ojapata, said that the decision of Synergos to establish the factory in Ojapata would stamp out the wastage of cassava peels wastage in the neighbourhood and empower the people.

Load more