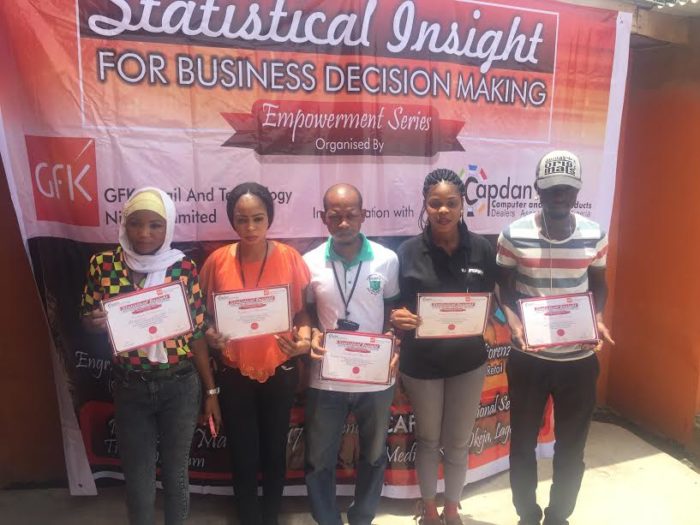 The Computer and Allied Products Dealers Association of Nigeria (CAPDAN) in conjunction with Growth from Knowledge (GfK) have empowered 150 traders from Computer Village in Ikeja, Lagos on significance of business development and decision making needed to boost businesses.
This is part of effort to ensure Small and Medium Enterprises, SMEs, thrive in-spite of recession confronting Nigeria,  and contribute to the nation's economy.
The seminar was aimed at educating traders on SMEs within Computer Village, on significance of business development and right decision making.
The National President, CAPDAN, Ahmed Ojikutu, said the association was committed to exposing the market to the world and also make it number one Information Communications Technology (ICT) hub in Africa.
Ojikutu, while speaking during the seminar on Thursday emphasised the need for relevant bodies to put in place measures that would support growth of SMEs in ICT, in place.
He said the seminar which centered its topic on Statistical Insight for Business Decision Making had considered the need for traders in the market to make right decision in their businesses
"Our aim is to make Computer Village number one ICT hub in Africa and also to expose it to the rest of the world, All businesses are risk, but the most important thing is for you to get idea and data of whatever business you want to do," he stated.
Retail Director, Sub Saharan Africa, Fiorenza Spano, explained reason computer system would remain relevant in markets and that traders in the sector needed to tap from opportunity opened in the industry, and utilized them judiciously.
Spano stated that technology had come to stay and that it had widely opened potentials for unlimited people to make living out of.
"No matter the price a phone is cost, no matter what applications the biggest phone on earth has, Computer system will remain relevant because of its functions. Price of mobile phones is positive because of increase in production, but reality is that more phones will come up soon."
Managing Director and Chief Executive Officer, Pointek,  Emeka Oguchi, said that decision making had process and that  information is key for owners of businesses to grow their idea.
Addressing traders at the event, Oguchi explained that developing business and making decision lied on information one was able to gather, and that it was not advisable to venture into, and invest, on businesses without enough available hints about pros and cons.
"It is not advisable for traders to jump into business they have no idea about of because decision making has process. What is important most in business is being focus, traders just have to keep going," he said.

Load more