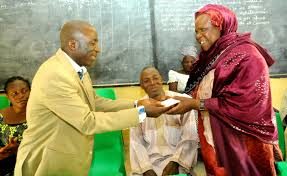 The Association of Primary School Head Teachers of Nigeria (AOPSHON), Jos North Local Government, Plateau, on Friday presented a cash of N400,000 and others gifts to its retiring members.
Mrs Mairo Sani, the chairperson, AOPSHON,while speaking at the send-off in Jos, said the gesture was to appreciate the laudable efforts of the retirees.
It was also in appreciation of their selfless and diligent service, she said.
" This event is to celebrate four of our retiring members and to also congratulate two others who had been promoted from their former cadres to new ones.
"We are giving the retired officers N100,000 each while we will give N40,000 each to the two officers who had moved up from their former cadres in the civil service."
Sani said the monies, awards and various gifts donated to the members would remind them of the role they played in the association and within the educational sector.
She said that the gesture would also remind them of the friendship they enjoyed while in service adding that the cash donation would assist them to start small businesses of their choices.
In his remarks, Mr Abok Izang, the Education Secretary, also a beneficiary, advised the retirees to enjoy their retirement in grace and good health noting that everything that had a beginning must have an end.
He commended the association for their support and love, in spite of their ethno-religious differences.
"I urge you all to see your retirement as an act of God and must be received with Joy.
"We need ourselves, especially, in this period of recession; our cooperative association should be more activated to serve as a buffer in this period.
"I urge you also to pray with teachers who are having challenges in receiving their salaries or were retired before their due date.
"I advise them to be more patient and not be depressed, because all these would be addressed appropriately. We do not want them to have any health challenge because of this issue."
Mrs Hajara Gyang, who spoke on behalf of the retirees, said the event was an emotional one for them because they were leaving the people they had worked and built friendship with for more than 30 years.
"It feels good to be appreciated despite hitches and misunderstandings while working together, thank you for your cooperation, and I wish you all success in all your endeavours," she said.

Load more