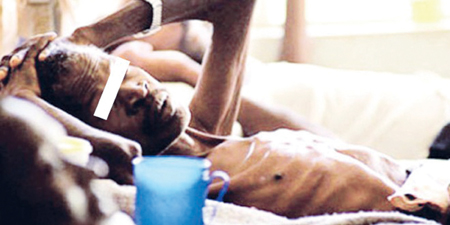 Dr Olu Olushayo, the World Health Organisation (WHO) representative in Rwanda, on Friday, called for concerted efforts in the fight against tuberculosis (TB).
He said during an event to mark the 2017 World Tuberculosis Day in Kigali that the disease is still one of the top causes of death worldwide.
He added that "we still have a lot of work to do not only to sustain and build upon the current achievements but also address the emerging challenges so that we can bring TB scourge to an end in Africa and Rwanda in particular."
There is a staggering 10.4 million new cases of TB estimated in 2015 globally, according to WHO.
Olushayo said countries needed to intensify efforts to reach, treat and cure everyone infected with TB.
He observed that the poorest and most vulnerable people who were disproportionately affected by TB needed special attention along with underserved areas which lacked access to basic health services.
Issues such as malnutrition, poor housing sanitation, environment pollution, poverty and the risk factors such as tobacco and alcohol use should be addressed, as they increase vulnerability to TB, according to experts.
Rwanda joined the world to celebrate World Tuberculosis Day with a focus on the young population in Kigali.
The World Tuberculosis Day is annually celebrated on March 24 to build public awareness on the tuberculosis epidemic which claims one-and-a-half million people each year, mostly in developing countries.
The theme of this year's celebration is "Unite to End TB''.
Meanwhile, Rwanda's Ministry of Health had announced plans to increase public awareness on TB diagnosis, treatment and prevention in communities.
Core on the ministry's plan was having access to adequate TB care, including diagnosis, treatment and cure.
The fight against TB in Rwanda had been a success over the years, officials said, with cases declining from 7,230 in 2011 to 5,763 in 2016.
Patrick Migambi, the Division Manager of TB at Rwanda Biomedical Centre, said mortality rate in the country had come from 66 percent per 100,000 people to 36 per cent per 100,000.
He cited various strategies put in place to fight the disease such as screening of TB among high-risk group like those infected with HIV, children under 15 years of age, elderly people and prisoners.

Load more