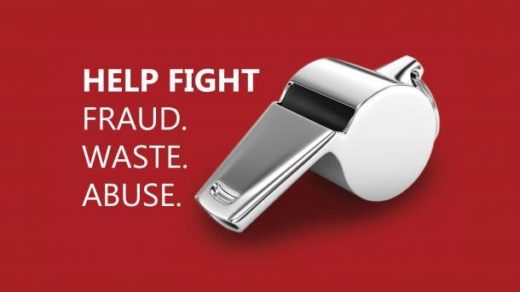 The Ministry of Finance, says it has so far received 2,351 tips from whistleblowers bordering on cases of embezzlement of government funds, looting of assets and contract inflation, among others.
In a statement signed by Mr Festus Akanbi, the Special Adviser, Media to the Minister of Finance, Mrs Kemi Adeosun said the tips came via text messages, calls, email and forms filled on the ministry's website.
"We have received 95 feedback through our website, www.whistle.finance.gov.ng, 1,550 tips came through calls on 09098067946 and SMS, 412.
"Also, 194 people sent us emails on [email protected]) – 194
He said that out of the 2,351, the office was currently following up on 154 tips, it had deemed actionable.
"Some of the tip types include: contract inflation and conversion of government assets to personal use, ghost workers, payment of unapproved funds and embezzlement of salaries of terminated personnel.
"Also reported include improper reduction of financial penalties, diversion of funds meant for distribution to a particular group of people, especially farmers and diversion of funds to personal commercial Bank Accounts to earn interest.
"Furthermore, we are following up on cases of non-remittance of pension and NHIS deductions, failure to implement projects for which funds have been provided, embezzelment of funds received from donor agencies and violation of TSA regulations by keeping funds in Commercial banks.
" We are also looking into violations of FIRS (VAT) regulation by adjusting Value Added Tax payment, non-procurement of equipment required for Aviation Safety, money laundering and diversion of funds meant for approved projects," he said.
Akanbi said that top on the Minister's agenda, as the Chairman of the Whistleblower programme, was to investigate illegal sale of government assets, diversion of revenue (IGR), concealed bailout funds, Illegal recruitment and violation of procurement Act.
It will be recalled that late last year, the Federal Government set up the Whistleblower programme to make it easy for the public to give information bordering on violation of financial regulations, mismanagement of public funds and assets and other financial malpractice.
The Federal Government promised any whistle-blower whose information leads to the recovery of up to N1 billion Naira, five per cent of the amount.
While for any amount above N1 billion, up to N5 billion Naira, the whistleblower stands to get four cent commission, and of any amount over N5 billion, it will attract 2.5 per cent reward.
However, in the press statement, the Ministry of Finance was silent about how much it has paid to whistleblowers, whose information led to recovery of looted funds.

Load more