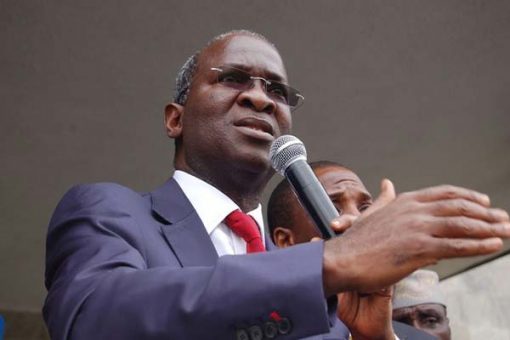 The Minister of Power, Works and Housing, Mr Babatunde Fashola on Saturday said the Federal Government was committed to completing road projects across the nation.
Fashola said this during an inspection tour of road projects in Lagos state.
He listed the Truck Park in Apapa, Lagos-Ibadan Expressway, Tin Can Island/Oworonshoki Expressway, Warff Road Rehabilitation and Reconstruction and the Mosimi/Sagamu as some of the roads in the state receiving attention.
He said that the ongoing road projects across the country was to develop the nation's infrastructure which will improve commerce and bring the nation out of recession in line with President Buhari's vision.
"We have to fulfill Mr President's mandate to get this economy out of recession and set it on the path of inclusive growth where money trickles down to the most vulnerable people," he said.
The Minister said that the infrastructural renewal commitment of the Federal Government was giving opportunity to various artisans and other construction professionals job opportunities.
He conveyed the gratitude of the President to artisans and other professionals in the construction sector driving the nation's development.
He said government would back up training of artisans with an economic programme.
"There must be an economic programme and that programme is the infrastructural renewal that puts everybody to work from the architects to those who really build," he said.
While fielding questions from journalists, he lamented the theft of manhole covers on Eko Bridge by vandals.
He urged residents of the state to take ownership of the manhole covers to prevent their theft.
"People persist in vandalising our common assets and it just must stop.
"There is need for more law enforcement," he said.
He said FERMA's board would soon be constituted "to show governance".
Earlier while inspecting the Lagos-Ibadan Expressway, the minister said government would continue to disburse funds to ensure contractors continue with the work.
Also, during inspection of the Port Access Link Road project in Apapa, Mr Paolo Prono, Executive Director, Borini Prono, contractor handling the project, said that the firm needed additional one month to complete the sanitary plant building on the site.
"If we are paid, by end of May we would finish the work," he said.

Load more