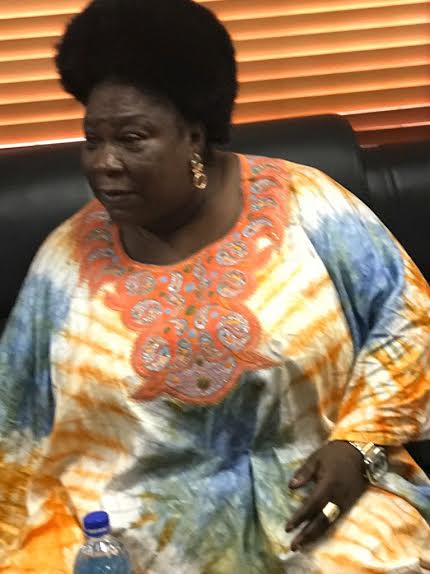 By Ademola Adegbamigbe
A woman, Mrs Abigael Ogunyinka, on Friday, 24 March 2017, jumped into the Lagos Lagoon at Ebute Ero, because of the N150,000 loan she obtained from a micro finance bank to boost her amala business, but which she could not pay back. However, she was rescued by maritime Samaritans (fishermen, sand dredgers, etc) around when a lady that followed her from her Alakuko home rushed to inform the Police. She asked the girl to follow her so that she could inform everyone, particularly her creditors that "I have not run away." She told a TVC correspondent that it was the embarrassment of the debt that made her to decide taking her own life. It was a kind of loan gone haywire, possibly from LAPO (Lift Above Poverty Organisation) microfinance bank, popular among housewives, food sellers, provision retailers, other small market men and women in Nigeria.
Also, the Lagos State Police Command, same day, rescued another woman, Taiwo Titilayo Momoh who attempted to jump into the Lagoon from Third Mainland Bridge. As published by this website, Lagos State Commissioner of Police, Fatai Owoseni told newsmen at the Rapid Response Squad, RRS, headquarters, Lagos Government Secretariat, Alausa, Lagos, Southwest Nigeria that Momoh was in a taxi heading towards Oworonshoki on Third Mainland Bridge when she told the taxi driver to stop on the bridge. According to Owoseni, the woman was about to jump into the water when a police patrol team on a routine patrol on the Third Mainland Bridge sighted her and rushed to save her before she jumped into the Lagoon. The commissioner said from his interaction with the woman, she had depression as a result of unpaid loans, adding that "she is still insisting that she wants to end her life."
Momoh looks well- to do actually. She lives in Lekki, Lagos. She revealed that she was pushed to committing suicide in order to, according to another report, put an end to her constant sleeplessness and shame occasioned by her indebtedness to three Swiss textile dealers. She noted that her problem started sometimes in 2015, when a Bureau De Change dealer absconded with her N18.7 million, which she had wanted to change to pay her foreign creditors. She added that the creditors had given her Swiss textiles worth several millions of naira, noting that she had maintained good relationship with the creditors for more than 15 years.
Her condition, she said became compounded when robbers invaded her shop in Lagos Island carting away most of the textiles that was left with her. She emphasised that most of the time, she has been having sleepless nights and, as Nigerian Tribune puts it, seeing the ghosts of the creditors whenever she was alone. She narrated further: "My first son, whom I felt would stand by me and console me abandoned me. By the time I'm gone, maybe he would come around and inherit what is left," she said.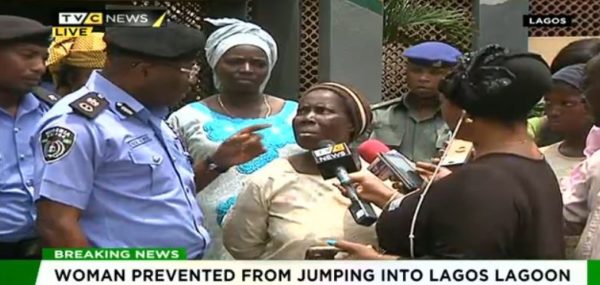 She added: "I don't want to use my debt and death to disturb anybody. I was in the shop this morning. I have looked everywhere and estimated what is there."
"I think, with my house, a bungalow, those I am leaving behind can still live comfortably. I want to go and meet God. This world is empty," she stated.
"I won't because I want to get rich join a cult group. I go my way and I don't socialise unnecessarily. I was a Muslim, I have because of this problem been jumping from one faith to the other. The problem is too much for me to bear. I want to go back to God," she lamented.
She also stated that: "That is why I have dressed very simply. I am ready to meet Him. If He cannot address my problem on earth, let me go back to Him."
At the Maza-maza end of the state, a woman was reportedly rescued as she also wanted to jump into the lagoon last week.
As if these were a contagion process, they happened after Dr. Allwell Orji, a medical practitioner with Mount Sinai Hospital, Papa Ajao, Mushin dived into the same body of water from the same Third Mainland Bridge on Sunday 19 March 2017. His corpse was discovered by divers many days later. A day before that, Adesoji Adediran, 500-level student of Urban and Regional Planning of the Ladoke Akintola University of Technology, Ogbomosho, Oyo State, committed killed himself. His roommates who were away for a night study came back the following day to discover his body dangling like a pendulum (his head tilting sideways and his tongue sticking out) from the ceiling. LAUTEC, thereafter informed cops from the Owode division; they took care of the corpse. DSP Ajisebutu Adekunle, the Oyo State Police Public Relations Officer said: "The deceased committed suicide by hanging himself on the ceiling fan. He didn't leave any suicide note. The case is under investigation. Meanwhile, the corpse has been deposited at LAUTECH morgue for autopsy."
What could have made a man take his own life? Many questions are asked by Nigerians, trying to unravel what goes on in the minds of people who want to commit seppuku. After Orji jumped of the bridge to his death, Professor Hope Eghagha, Head of Department of English, University of Lagos asked:
"What were his final thoughts when he got out of the gleaming glass-on-the-road and stood by the pavement of transition? What were his thoughts as he drove to the treacherous height? What were his thoughts that Sunday as his pastor made demands? How many times did he drive on that bridge before he swam into the river-valley of no return? When did he make up his mind to close the curtain of his sojourn? Did he think about his wife, his innocent kids, his mother? Did anyone hear his silent cry of fear and pain? Did they ignore? Did they reject? Did he regret the plunge as the last breath came surging out? Did he try to reject his hasty decision as his eyes closed finally? Did he shed tears inside the belly of the river?"
What exactly are the reasons for committing seppuku? Suicide has, through the ages, been a subject that engaded the attention and intellect of philosophers. While there were some who argued against it, others believed it could, as Wikipedia chronicles, be permitted.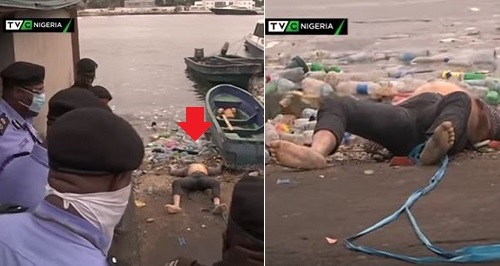 Philosopher Herodotus wrote: "When life is so burdensome, death has become for man a sought-after refuge". Schopenhauer, another philosopher affirmed: "They tell us that suicide is the greatest act of cowardice… that suicide is wrong; when it is quite obvious that there is nothing in the world to which every man has a more unassailable title than to his own life and person." Seppuku is Japan's form of suicide and they see it as a honorable way to "redeem oneself for transgressions or personal defeats."
On the other hand, according to Philosophyinseconds, St. Thomas Aquinas in his Summa Theologica, he outlines three reasons why people should not murder and thus we can safely assume that it applies to the murder of oneself. It is 1) contrary to natural law, it 2)harms the common good (communal mentality should not be endangered) and 3) it is a sin against God.
Thomas Hobbes claims in his Leviathan that natural law forbids every man "to do, that which is destructive of his life, or take away the means of preserving the same." Immanuel Kant, in Fundamental Principles of The Metaphysic of Morals. In accordance with the second formulation of his categorical imperative, Kant, as Wikipedia records, argues that, "He who contemplates suicide should ask himself whether his action can be consistent with the idea of humanity as an end in itself." Albert Camus saw suicide as the rejection of freedom and that fleeing from the absurdity of reality into illusions, religion, or death is not the way out. "Instead of fleeing the absurd meaninglessness of life, we should embrace life passionately."
Read more here:http://thenewsnigeria.com.ng/2017/03/how-nigerians-can-curb-suicides/

Load more