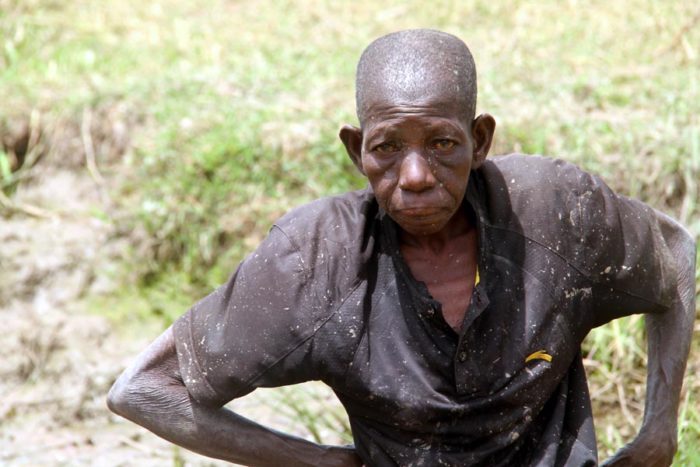 By Femi Ipaye
She is popularly called Mama Ibrahim by members of her families and people in her community. Bent with age, the Gbagyi woman who claimed to be about 90 years old earn her daily bread retrieving fishes and crabs from muddy stream on a swampy, vacant expansive piece of land in Giri, a settlement off Nnamdi Azikwe International Airport, Abuja.
She is usually joined in the task of rummaging for fish and crabs by her son's wife, Mrs. Ibrahim and Musa, her grandson.
The trio, bound by dire need to survive the Nigeria's harsh economic conditions spend hours scooping and draining muddy water from the small stream with the hope of extricating fish and crabs they may have been scooped with the water. Mrs Ibrahim who understands 'little' English but can't speak; was able to tell us how old mama is. The 90 -year- old woman doesn't speak or understand any language except Gbagyi and Hausa.
The grandmother and her family survive by trekking at least two kilometers everyday to fetch firewood for sale when they are not out scavenging for fish and crabs to get their daily meals. The little boy, who was actually the last grandson of the Septuagenarian, is a primary two pupil. But he has stopped schooling due to lack of money. He will need need some sort of intervention not to end up like the parents.