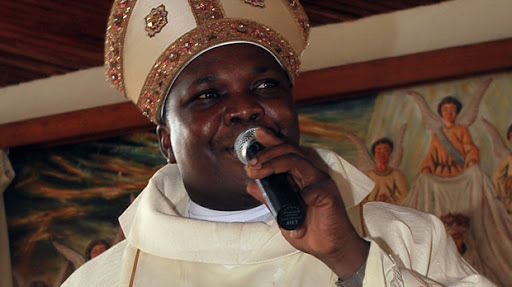 Emmanuel Badejo, the Bishop of the  Catholic Diocese of Oyo, says Nigeria is not beyond redemption if every citizen  makes sacrifices and embraces good morals.
Badejo, who spoke on Sunday on the sidelines of the one year memorial service for Madam Margaret Laleye at Christ the King Catholic Church, Odo-Ona, Ibadan, said the current economic recession was preceded by moral recession.
"It was moral recession that started first. We lost our moral compass when we started honouring thieves and those who mismanaged public funds.
"We treated these set of people as if it did  not matter. We did not notice because we had money to spend and this led us into economic recession.
"Nigeria is not beyond repair. Things can only turn around if moral issues are addressed," he said.
According to the cleric, Nigeria is not among the poorest in the world but among the most mismanaged.
He said that God had given the country all it needed including  good weather, natural resources  and human capital.
Badejo called on Nigerians, including leaders, to examine the country's  challenges with deep insight.
"The average Nigerian  wants  things to be  turned  around without stress. They always  talk about leadership and  always jettisoning servant hood and followership.
"All of us want to become leaders. Who is teaching us about being servants? Who is learning about becoming a public servant?
"Many want to be leaders and we hail them. Anyone who has never been a servant cannot be a good leader. We have to retrace our steps," he said.
"The vulcaniser, gateman and driver are also leaders in their own rights. We must collectively make sacrifices and  embrace good morals to build the Nigeria of our dreams.
"It is not about President Muhammadu Buhari or Gov. Abiola Ajimobi but our collective efforts toward building a better Nigeria," he said.
He prayed God to strengthen the nation's  leaders in the task of developing the country.
The programme featured the inauguration of the Catholic logo donated by the Laleye family in memory of their late parents.
It also featured the 10th memorial thanksgiving service for late Pa Alphonsus Badejo..
Among those present at the occasion were Rev. Father Francis Adedigba, the Parish Priest, Mr Wale Laleye and his wife, Biodun; Mrs Yemi Allen and her husband, Demola.
Others were Mrs Foluke Akinmurele and her husband, Sola; Mrs Bimbo Opawoye and husband, Lai, and Mrs Rachael Badejo.