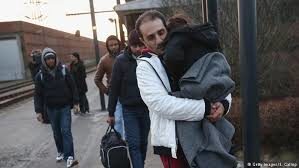 A plane carrying 15 Afghans whose bid for asylum in Germany was rejected arrived in Kabul on Tuesday, as Berlin accelerates the deportations of those whose claim to remain in Europe's biggest economy has failed.
The flight from the Bavarian capital of Munich brought the number of rejected Afghan asylum seekers to be flown out of Germany since December to 92.
The Bavarian Interior Ministry said the rejected asylum seekers included single unmarried men, some of whom had committed a criminal offence in Germany.
Report says Germany has for years been slow to deport failed asylum seekers.
However, the nation has tightened its deportation laws in the wake of a political backlash after it admitted about 890,000 refugees, mainly people fleeing wars in the Middle East and Africa, in 2015.
A series of high-profile crimes involving migrants, including terrorist attacks, has also boosted demand for deportations.
In addition to Bavaria, six other German states, Baden-Wuerttemberg, Brandenburg, Hamburg, Hesse, Mecklenburg-Vorpommern and Rhineland-Palatinate, have also stepped up moves to send home failed asylum seekers.
"I have no idea why they stopped my asylum application,'' Obaid Ros, who was on Tuesday's flight to Kabul said, saying that he had lived in Germany for seven years, repairing computers.
According to the 24-year-old Ros, there is no security, no work, no life in Afghanistan, adding that he would try again to go back to Germany.
However, Bavaria's hardline Interior Minister Joachim Herrmann said that the rejected asylum seekers would be returned to secure Afghan provinces currently not caught up in any fighting.

Load more