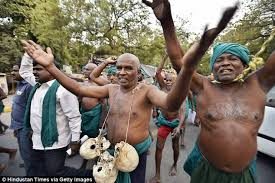 Indian farmers hit by drought and debt displayed the skulls of fellow farmers believed to have committed suicide, and placed live rats in their mouths at a protest on Monday calling on Prime Minister Narendra Modi to save them from starvation.
"These skulls are all that remains of our brothers who killed themselves because they could not repay their debts," said P. Ayyakannu, president of South Indian Rivers Linking Farmers Association, sitting by a row of eight human skulls.
The farmers say lack of rains over the last year have led to crop failure, forcing many to take loans from banks and moneylenders to survive.
Some held up large white rats and placed the squirming rodents between their teeth — saying they would be forced to eat them in order to avoid starvation

Load more