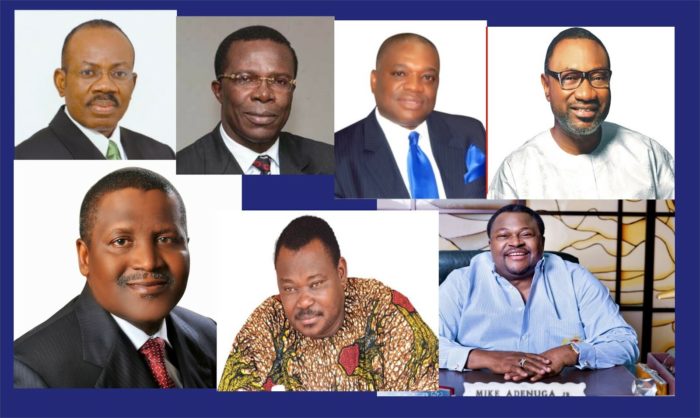 By Kazeem Ugbodaga
The Federal Government says it will soon clampdown on Nigerian millionaires and billionaires who evade payment of tax.
Nigeria's Finance Minister, Kemi Adeosun decried that several millionaires and billionaires in the country did not often pay tax, describing it as a shame.
Adeosun spoke at the 9th Colloquium to mark the 65th birthday of Asiwaju Bola Tinubu, All Progressives Congress, APC, national leader in Victoria Island, Lagos, Southwest Nigeria on Tuesday.
According to her, the Federal Government would come up with a new tax regime whereby the big guns in the society would be made to pay tax willy nilly.
She lamented that many Nigerian entrepreneurs had developed the habit of not paying tax, saying that one of the strategies the current administration of President Muhammdu Buhari intended to use in boosting the country's revenue was through tax mobilization.
"It is a pity that Nigeria has one of the lowest tax regime ratio globally at 6 percent.  The only country that is lower than us is Oman. We have so many wealthy entrepreneurs, who have managed to develop habit of not paying tax, we need to correct that," she stated.
Adeosun  recalled that when the administration of Asiwaju Bola Tinubu introduced tax regime in Lagos, he became unpopular, but that today, ''when we see the infrastructure, I don't think anyone will blame him for his action.''
"I take this opportunity to reach out to the millionaires, billionaires and trillionaires that you will hear from me soon. It is shame that we are one of the largest owners of crude oil, but we cannot enjoy the revenue from it. Oil has proven that it would be an unreliable source of revenue. The price is unstable,' she added.
The minister explained that the economic challenge facing the country required multiple strings of revenue, assuring that the country would soon be out of the economic recession.
She also  disclosed that the Federal Government was already copying the Lagos template to revive the economy.
To make the economy productive, he said the Federal Government recently released N1 trillion for capital expenditure, adding that measures were being taken to bring about multiple streams of revenue.
"The economic template we copied from you (Lagos) is now being implemented for economic recovery of the country and we are not ashamed to say it. The impact of that template is that many of the states are now copying it especially in the area of IGR," Adeosun said.