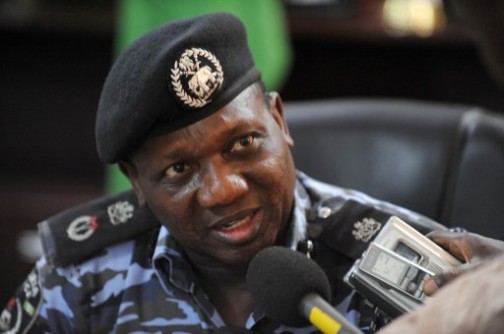 The Inspector–General of Police Intelligence Response Team and Anti Kidnapping Squad of Police in Abuja have arrested 11 kidnap suspects, allegedly led by a dismissed personnel of Department of State Services, Abdulrasheed Maigari.
ACP Abba Kyari, leader of the squad, revealed in Lagos on Wednesday that the suspects had made millions of naira from victims abducted mostly by traffic lights in Abuja.
Kyari said the DSS' former personnel, Maigari, 35, was a 2006 Political Science graduate of Bayero University, Kano.
He said police investigation revealed that Maigari was recruited as a graduate officer in DSS in September 2011, later dismissed and charged to court in 2015 for a N310 million heist in Abuja.
According to Kyari, the suspect, who is an indigene of Donga in Taraba State, joined the kidnapping gang after he was charged to court and granted bail on Nov. 28, 2016, following his arrest with some unidentified soldiers for bank robbery in Abuja.
"He immediately joined this kidnapping gang in Abuja and became its coordinator. He rented two houses in Suleja, where the gang was keeping its victims", he said.
He said some victims kidnapped by the gang included 67-year old Alhaji Isa Ozi Salami, former General Manager of Peugeot Automobile Nigeria (PAN), the Managing Director of Nigeria Paper Mills in Jebba, Chairman, Gateway Insurance,
Ms Ngozi Dabiri, and one Mr Japhet and his wife, who paid N5 million ransom after they were kidnapped in Gwarinpa, Abuja.
They also collected N50 million ransom from the owner of a petrol filling station in Gwarinpa; N5 million from two women abducted while driving in a Mercedes Benz SUV in Gwarinpa.
They also collected N2 million from two ladies identified as university students abducted at Wuse 2, in Abuja.
"Alhaji Salami was rescued from the kidnappers' hideout in a 2-bedroom house rented by Maigari in a remote part of Suleja town in Niger State.
"One Ak47 rifle, three Ak47 magazines loaded with 90 rounds of ammunition and two pistols with 14 rounds of ammunition were recovered from the kidnappers.
"They usually trailed their prospective victims driving expensive cars inside Abuja in the evening. They block and kidnap their victims at traffic light spots, in the house or estate gates.
"They confessed to several kidnappings within Abuja City. There are efforts to arrest the only remaining gang member at large", Kyari said.