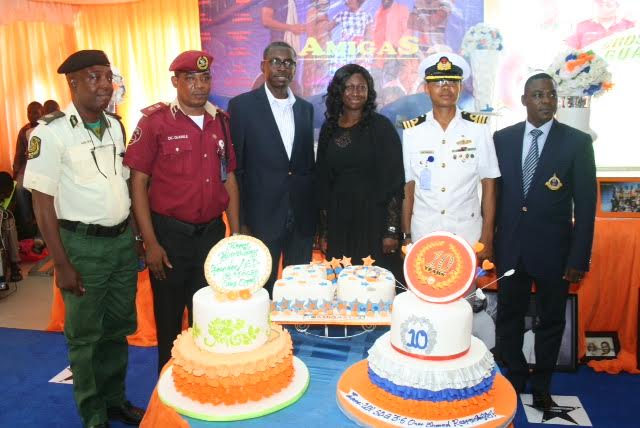 The Federal Road Safety Corps, FRSC has disclosed that it has impounded about 5,700 vehicles in Ogun State in two months for not having speed limit devices in their vehicles.
Ogun State Sector Commander, FRSC, Clement Oladele disclosed this on Tuesday at the 10th Anniversary of Temidayo Ogan Child Safety and Support, TOCSS Foundation, and the premiere of a new movie on road safety by the foundation, titled , 'Amigas' held in IKeja, Lagos, Southwest Nigeria.
Oladele said the Corps normally arrest an average of 100 commercial vehicles per day since 1 February, 2017 since the commencement of speed limit enforcement on the country.
He said the penalty for not having speed limit device was a fine of about N3,000,saying that the FRSC was determined to enforce the law to the letter.
Oladele also disclosed that accident rate had gone down drastically in the country because of the proactiveness of the Corps.
He disclosed that about 10,000 road crashes were recorded on 2016, out of which about 6,000 people died.
Also speaking, Executive Director, TOCSS Foundation, Temidayo Ogan said the foundation had been self-sustaining all through its 10 years of existence, as it had continued to grow in leaps and bounds.
She charged parents and wards to ensure their children were strapped to seat belt or booster seats while driving their vehicles.
Ogan said her motivation to begin child safety campaign was when she had an accident in 2007 as she was driving with her child strapped to a booster seat, adding that because she was on seat belt and her child on booster seat, the child was safe.
She said since then, she decided to launch a foundation on child safety to create awareness on the need to protect the child from harm.
Also speaking, Assistant Corps Marshal, Zonal Commanding Officer, Zone 6, Port Harcourt, Jonas Agwu decried a situation where motorists flagrantly break traffic light, calling on motorists to exercise caution.
Agwu, who delivered the keynote address, titled: "UN Sustainable Development Goal Target 3.6, our shared Responsibility" said 1.25 million death were recorded annually from road crashes.
Agwu, whose speech was read by Oladele disclosed that between 2011 and 2015, the average death from road crashes in Nigeria was put at 5,000 annually.