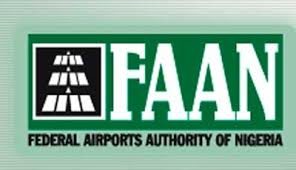 The Federal Airports Authority of Nigeria (FAAN) has embarked on the rehabilitation of the Nnamdi Azikiwe International Airport (NAIA), Abuja, terminal ahead of its scheduled re-opening on April 19.
Work was ongoing at both the international and domestic wings of Terminal B.
NAN observed that most parts of the building were being repainted with the public toilets undergoing repairs while the Bureau de change stand in the terminal building had been dismantled.
The FAAN Acting General Manager, Corporate Affairs, Mrs Henrietta Yakubu, who spoke with NAN, said the ongoing renovation was to ensure that the airport reopened with facilities that meet global standard.
Yakubu said that the bureau de change stand would be remodelled in line with International Civil Aviation Organisation (ICAO) standard.
The spokesperson added that the authority, being also mindful of the plight of physically challenged and aged persons, had decided to provide lift and escalators at the departure hall.
Meanwhile, the Minister of State, Aviation, Sen. Hadi Sirika, had said on Thursday that the airport would be wearing a new look by April 19 when it would be reopened.
Sirika said that FAAN was doing complete rehabilitation of the Terminal B's international wing with escalators and lift at the departure hall for the physically challenged and aged persons.
"The airport is re-opening on April 19 with better runway, better facilities and will be more efficient and compliant with ICAO protocol on standard and best practices.
"Also, we are opening a lounge for the physically challenged and elderly and this is in response to the feedback that we got.
"In terminal B building also lift, toilets and other ancillary facilities will be provided.
"The closure of this airport also means that we improve the terminal to be more robust and create a seamless flow of international and local passengers,'' he said.
The Federal Government shut the airport on March 8 for six weeks, to enable Julius Berger to repair of the failed 3.6 kms runway.
The runway was said to have been in use for 35 years without any repair as against the original 20-year life span.
The rehabilitation work has reached 57 per cent completion three weeks after the closure.