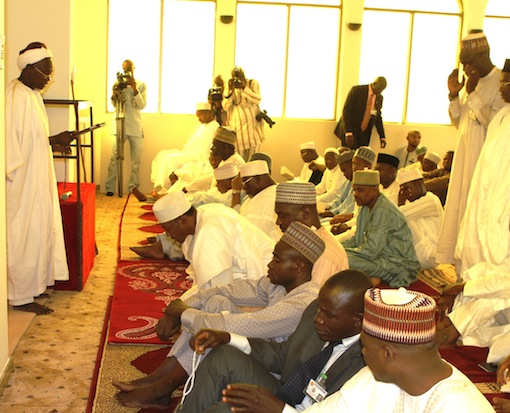 Kogi State Gov.Yahaya Bello of Kogi has denounced those depicting his administration as non-comprehensive, saying their feedback comes from his request not to share the state's resources to couple of elites.
Bello expressed this while handling inquiries from State House journalists subsequent to joining President Muhammadu Buhari to perform the weekly Jumat prayers at Presidential Villa Mosque, Abuja on Friday.
According to him, in spite of such insinuations, the assets of the state are being used for the general great of the general population of the state.
He communicated fulfillment that President Buhari was recovering exceptionally well since he returned from the UK, including that Nigerians ought not stop in their prayers for him.
"We followed Mr President to perform Jumat prayers and we are happy that he is getting stronger and stronger by the day.
"We can only thank Almighty Allah for this wonderful job that he (Buhari) has done for this country.
"I only urge all Nigerians to continue to pray and give him all the necessary support. Nigeria is going to be better,'' he said.
The Governor disclosed that the instances of kidnapping and armed robbery, which used to portray the state, had been brought under control.
He said the state, under his stewardship, had changed definitely accordingly of capable administration.
" Kogi is changing from the dark days to the present economic prosperity;  we are following our economic blueprint and things are changing, infrastructurally.
"The civil service is being reformed, pension too is being reformed and investors are coming in because we have largely secured the state," he added.
READ MORE: UTME Registration: Prospective candidates plead for extension
On the designation of Prof. Steven Ocheni as Minister to represent Kogi in the Federal Executive Council, Bello said the eminent teacher would make Nigeria, individuals of Kogi and President Buhari, pleased.
He expressed gratitude toward the president for choosing Ocheni, whom he portrayed as "a versatile and workaholic'' professor.
Essentially, Gov.Abdullahi Ganduje of Kano state commended President Buhari for conveying peace and soundness to Nigeria, particularly to fight the insurrection in the North Eastern piece of the nation.
Ganduje, who similarly joined the Jumat prayers at the Presidential Villa together with the president, declared that with the reclamation of peace, Kano state would have a financial summit on April 24, to help financial exercises in the state.
As indicated by him, Kano, being a business town, will utilize the summit to investigate other financial open doors.