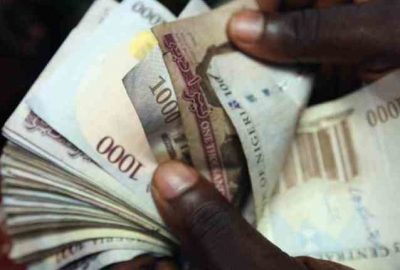 Alhaji Aminu Gwadabe, the President, Association of Bureau De Change Operators of Nigeria (ABCON), has blamed the recent depreciation of naira on the speculators' onslaught and resistance by the banking industry.
Gwadabe said on Saturday in Lagos that the refusal of some banks to sell the invisibles such as personal and business travel allowances frustrated naira recovery.
The ABCON chief said that the CBN had recently accused the banks of frustrating its policies.
He said it was ironical that the naira started losing strength in spite of the CBN's review of the rates from N375 to N360 to a dollar.
According to him, the naira started trading on Monday with a promising outlook for sustained strength against the dollar and other currencies, but it began to somersault at the middle of the week.
"The naira ended deeper northward to close at N394 to a dollar on Friday, translating to 10 per cent depreciation of what was recorded during the week,'' Gwadabe said.
The association president said that the removal of disparity in applicable exchange rates among the BDCs, Travelex and the banks should have strengthened the nation's currency.
The financial expert said, "CBN's knack for last minute solution as recent development has shown, accounted for the misfortune of the naira at the foreign exchange market.''
Gwadabe said that the battle for the soul of the naira would be won if the CBN could boost liquidity to the BDCs for effective unification of rates.
"It is evident that the injection of liquidity to the interbank market rather than the BDC sub-sector is not effective and transparent for sustained FOREX rate convergence and unification.
"Statistics from the CBN shows that about 20 banks get 80 million dollars weekly for invisible transaction as against the 20 million dollars weekly for over 3000 CBN licensed BDCs nationwide.
"The CBN should enhance public awareness to guide end users on FOREX availability and applicable exchange rates.
"The CBN should diversify the buffers from oil proceeds to foreign investors inflows and Diaspora remittances,'' Gwadabe said.
He urged the CBN to sponsor a bill for an act of the National Assembly for naira convertibility in West Africa, as part of the solutions to full recovery of the naira.
Gwadabe said that naira was currently a means of exchange in about 15 countries in Africa.
He urged the Federal Government to increase security surveillance at the nation's airports and land borders to checkmate illegal foreign cash evacuation.
The naira ended the week on a negative note, eroding the 12.36 appreciation it recorded in its trading last week.
The Nigerian currency appears to be on trial again, as experts argue that winning the battle for the soul of the naira requires more than pulling the monetary policy lever.
They called for a blend of fiscal and monetary policy and indeed patriotism from all Nigerians to save the naira from further sliding.