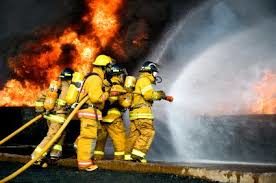 The Acting Controller, FCT Fire Service, Mr Julius Opetunsi, has decried the relegation of fire management agencies in the country to the background, saying there is lack of public goodwill and consciousness.
Opetunsi said in Abuja that both the general public and corporate Nigeria remember the fire services only when there are emergencies.
He said that the FCT Fire Service had not received any financial or logistics support outside government's funding since inception.
He said, "In this country, security is all that matters; safety, especially fire safety, is on the back seat of public consciousness.
"It is in Nigeria you see a governor giving 30 or 50 vehicles to the police, whereas the fire service in that state is either not functional or poorly equipped.
"In other countries you see private organisations donating firefighting equipment to fire services, but here nobody cares until there is an outbreak of fire somewhere," he said.
He appealed for a change of attitude, noting that any support to the fire services was ultimately for the benefit of the provider.
"Corporate organisations need to take fire issues seriously as part of their corporate social responsibility because without fire service their property will not be protected.
"By giving equipment to fire service, they are helping themselves in the long run, not us,'' he added.
The controller also blamed members of the public for most of the late arrivals of firefighters at the scenes of fire incidents in the FCT.
He said most residents do not have fire emergency numbers, while those who have do not call early whenever there were outbreaks.
"We are not spirits. If you don't call us there is no way we will know there is fire.
"Wherever we go we distribute flyers that contain all our emergency numbers, which are also inscribed on our fire trucks and other vehicles.
"You won't believe that people drive all the way from Wuse and Maitama to our headquarters here in Asokoro to inform us of fire outbreaks.
"Before we get to the scene, the damage is already, and they begin to blame fire service for not responding promptly," he said.