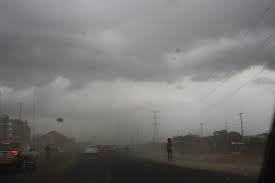 The Nigerian Meteorological Agency (NiMet), has predicted moderate dust haze and partly cloudy weather conditions in visibility range of one to three kilometres over the central states of the country on Monday.
The NiMet's Weather Outlook by its Central Forecast Office on Sunday in Abuja also predicted chances of localised thundery showers over Lokoja, Makurdi and Lafia during the evening and night hours.
It added that the region would have day and night temperature of 34 to 40 and 19 to 30 degrees Celsius respectively.
The agency predicted that southern states would experience morning cloudiness with isolated thunderstorms over the coastal cities such as Port Harcourt, Calabar, Yenagoa, Lagos and warri later in the day.
It also predicted isolated thunderstorms over the inland of Akure, Ado-Ekiti, Benin, Enugu, Owerri and Obudu with day and night temperatures of 34 to 39 and 20 to 26 degrees Celsius respectively.
According to NiMet, northern states are expected to experience dust haze conditions in visibility range of 1000m to 3000m are expected to prevail over this region.
"Maiduguri, Gombe, Nguru and Yola may likely experience visibility of less than 1000m with day and Night temperature of 31 to 41 and 17 to 29 degrees Celsius respectively.
"Reduced visibility in dust haze condition is anticipated to persist over the northern and part of the central cities.
"The south is expected to be under the influence of cloudy to partly cloudy situation with prospects of localised thunderstorm in the next 24 hours,'' NiMet predicted.

Load more