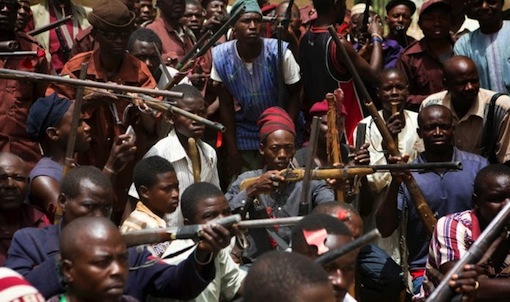 The timely intervention of policemen from Mayo-Belwa Division in Adamawa on Saturday saved a suspected pick pocket from being manhandled by some angry hunters who converged for the annual Talala (oath taking) Festival of Hunters from North East.
The suspected pick pocket was caught while stealing a cell phone from a hunter at the revered festival where the hunters fortified themselves.
It took the intervention of some hunters and the police to take the suspect in a patrol van to the station.
Many of the hunters were enraged by the suspects audacity to steal at such festival of cleansing and fortification.
"Even armed robbers and Boko Haram have some respect for us and know the consequences of coming to this festival to try anything funny, let alone this rat", a hunter who simply identified himself as Zaki, said.
Zaki said that "Talala is sacred to the hunters. Any hunter who compromises by resorting in criminal acts keeps away from it for fear of being exposed.
"If you are a hunter and engages in criminal activities, coming to Talala oath taking will expose you and that is why anybody that comes here with evil plan will be exposed", Zaki said.
He cautioned members of the public, particularly criminals not to abuse the privilege given the public to come and witness the oath taking and fortification by engaging in criminal acts during the ceremony.
Hunters in north-east who have knowledge of the terrain have been assisting the military and other security agencies in the fight against insurgency

Load more