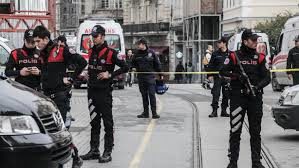 Security officials said on Monday that two police officers received minor injuries when explosive materials were thrown at their vehicle in the southern Turkish province of Mersin.
A state run Anadolu Agency reported that security forces have launched a full investigation following the attack in the Mezitli district.
Provincial Police Chief Mehmet Sahne said that Mersin Governor Ozdemir Cakacak told Anadolu Agency that the wounded officers were based out of the Tece Police Station.
Cakacak said the explosives could have been detonated by remote control. "Investigation of the incident is ongoing.
"Colleagues are carefully examining every detail. Our security forces will capture the perpetrators very soon."
The injured police officers were taken to Mersin University hospital, he said, adding that their injuries were minor.

Load more