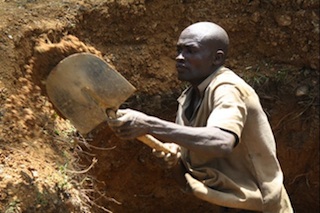 The Director-General and Chief Executive of Lagos Chamber of Commerce and Industry, Mr Muda Yussuf has approached the National Assembly to review the legislation that will expel mining from the exclusive list.
He said on Sunday in llorin, the Kwara capital, while talking with newsmen.
Yussuf said the measure will allow each state of the country to have better control of the mining part.
The Director saw with dismay that under the present course of action, the royalty from mining from different states goes to the Federal Government.
He was of the view that if the mining area is on the existing list, states would have better part to play and even create more income .
He lauded the efforts of the Federal Minister of Mineral Resources in guaranteeing that that there is effective collaboration between the Federal and state governments in the segment
READ MORE: South-east Governors To Meet FG Over Nnamdi Kanu
According to him, the authoritative and administrative issues in mining has been a major bottleneck which should have been direly tended to.
Yussuf noticed that a few craftsmans and casual mineworkers are working unlawfully, expressing that the Federal government should likewise set up a strategy that will bring every one of the diggers under one umbrella.
He encouraged state governments to make a domain helpful for mining business to flourish.
He depicted the mining segment as key to enhancing the country's economy.
The general guaranteed that soon the country would be out of the present economic difficulties.