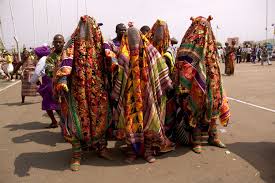 The Police Command in Enugu State has warned masquerades and their assistants against form of recklessness aimed at Nigerians in the state under whatever guise.
The command's Public Relations Officer, Mr Ebere Amaraizu, gave the warning in a statement in Enugu on Monday.
Amaraizu said that the police would arrest anyone caught breaking law under the guise of masquerade shows.
He maintained that the command had continued to say that people's rights should not be infringed upon in any show or festivity.
He advised communities to celebrate their culture and masquerade festivities within the confines of the law.
"The Police have frowned at the report received concerning the alleged recklessness of some masquerades and their assistants on the issue of assault, molestation and intimidation of good people of the state.
"Anyone caught committing offence or wrecking havoc on members of the public under the guise of masquerade festivities will be promptly arrested and prosecuted,'' he said.
READ: Police to release report on assaulted Ekiti Woman
In a related event, the command through its operatives in Nsukka Police Divisional Headquarters, nabbed one of the assistants of Oriokpa Masquerade, Nnamdi Okoro, in Nsukka  on March 26.
Okoro was alleged to have assaulted Mr  Ezeugwu Lawrence, which caused him injury on his head at Ugwuoye axis of Nsukka.
"Okoro is now helping police operatives in their investigation.
"He will be arraigned properly in court after investigation,'' the police spokesman said.

Load more