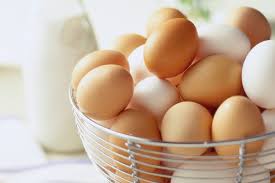 Members of the Poultry Association of Nigeria (PAN), has appealed to the Plateau state Government to come to their aid in mopping up eggs from the farmers so as to save the industry from total collapse.
Chairman of the association, Mr John Dasar, made the appeal in an interview with the News Agency of Nigeria (NAN) on Monday in Jos, in respect to the ongoing egg glut recorded across the state.
NAN recalls that about a week ago, the association had approached government through the State's Commissioner for Agriculture, Mrs Linda Barau, and lodged it's complain.
Dasar said that while price of egg had been on the decrease, that of chicken feeds had been skyrocketing on a daily basis, making poultry farming an unfruitful venture.
He attributed this to the existence of a cabal in the poultry market which was always mopping up eggs directly from farmers at giveaway prices for sales to consumers at exorbitant prices.
READ: This Morning: 3 suspected suicide bombers killed in foiled attacks in Borno
Dasar said that the outbreak of bird flu in the state had done enough damage to the poultry industry while adding that the current situation would do more harm to the industry if nothing was done to contain it immediately.
"We have serious egg glut presently in the state, and if nothing is urgently done, a lot of things will go wrong because some farms are at the verge of collapsing.
"The outbreak of bird flu has done more harm to the Poultry industry in the state already, and now with this, more farmers will be out of business.
"Everybody knows the importance and critical contributions of the poultry industry towards the economic growth of this state and the nation at large.
"It is only in Plateau that a crate of egg goes for N700, while a bag of chicken feeds as at today goes for N3,700, making the poultry business largely unprofitable.
"So, we are pleading with government to help mop these eggs so as to help our farmers bounce back to business,'' he said.
Dasar noted that the state stood the risk of losing huge revenues if the glut continued, adding that this ould lead to a closuure of most faems in the state, thereby increasing the menace of unemployment in the state.
He said that if the association kept mute over the precarious situation, it would not be doing the government any good because the economy of the state would be greatly affected.