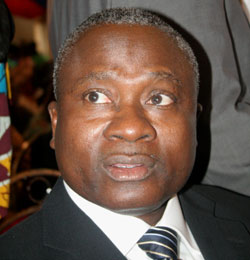 By Kazeem Ugbodaga
The Lagos State Government on Monday alerted residents of the state on the dangers of Cerebrospinal Meningitis (CSM) and debunked any reported case of outbreak of the disease in Lagos.
The government urged residents to report any suspected case to the nearest public health facility.
A new strain of CSM causative agent, Neisseria Meningitides type C, which is slightly different from the causative agent of the seasonal CSM in Nigeria has affected some States in the country.
Commissioner for Health, Dr. Jide Idris, explained that CSM is a dangerous and a life threatening disease that affected the thin layers of the tissue around the brain and spinal cord of an infected human person and it is caused by bacteria.
He added that Cerebrospinal meningitis is an epidemic-prone disease that spreads from person to person through contact with discharges or droplets from nose and throat of an infected person.
"It can also be transmitted through kissing, sneezing and coughing especially among people living in close quarters, hotels, refugee camp, barracks, public transportation and areas with poor ventilation or overcrowded places," he said.
The commissioner noted that though, seasonal Meningitis outbreak usually affects the mainly Northern States that fell within the meningitis belt of the country, it was not impossible that outbreaks could occur in any part of the country, Lagos inclusive, in view of the phenomenal climatic change as well as the high human migration.
Idris added that no case of CSM had been recorded in Lagos State contrary to what had been published, saying that as a responsive government, "we deem it fit to alert the public."
He explained that the disease usually presents with high body temperature, pain and stiffness of the neck, headache, vomiting, fear of light, restlessness and confusion, stressing that death might occur if not promptly and properly managed.
The commissioner, therefore, emphasized the need for the observance of high standards of personal and environmental hygiene as a preventive measure against the disease, noting that such measures should include washing of hands with soap and water frequently; avoiding direct contact with the discharges from an infected person and covering of the mouth and nose when coughing and sneezing.
"It is strongly advised for people to avoid overcrowding in living quarters, provide cross ventilation in sleeping and work-rooms and other places where many people come together and get vaccinated with CSM vaccine when you are travelling to areas where Meningitis outbreaks have been reported," he said.
Idris noted that health workers in the State, especially health workers in the hospitals, the State Epidemiology team and the Disease Surveillance and Notification Officers (DSNOs) in all the 57 Local Governments and Local Council Development Areas, LCDAs, had been placed on high alert and therefore the disease surveillance and monitoring activities had since been intensified.
"Health workers are also advised to avoid close contact with suspected and probable cases of CSM based on the case definition distributed, ensure proper disposal of respiratory and throats secretions of cases, report suspected or probable cases, observe universal safety precautionary measures and make use of personal protective equipment when in contact with such cases as highlighted in the Fact-Sheets earlier forwarded to them" he said.
While urging residents to take responsibility for their health and report persons with the above symptoms to the nearest public health facility or the Ministry of Health, Idris stated that the State Government had put in place all the above measures towards avoidance and prevention of outbreak of CSM in Lagos State.
He advised the public to remain calm and report suspected cases to the nearest public health facility or contact the Disease Surveillance Officers of the Ministry of Heath on the following GSM numbers: 08037170614, 09087106072, 08023169485, 08052817243, 08026441681.

Load more