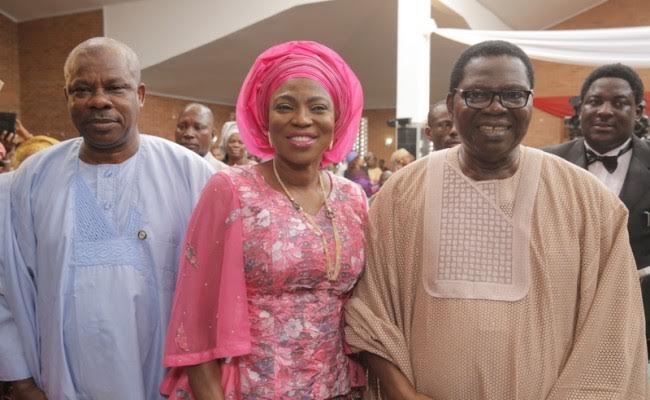 By Jamiu Yisa
The governor of Ogun State, Senator Ibikunle Amosun has pledged that his administration will build a museum in honour of Juju and gospel music maestro, Chief Ebenezer Obey-Fabiyi.
The governor made this known at the interdenominational church service held at the Chapel of Christ The Glorious King, located inside the Olusegun Obasanjo Presidential Library, Abeokuta, to mark the 75th birthday of the music icon.
Speaking at the event, Amosun stated that all Obey's works would be kept in the museum for generations yet unborn to know about him and other legends from the state
He said that all he saw in Obey at 75 was the awesomeness of God in his life, adding that there ws always something to learn from his music.
Speaking further, Amosun reminisced on when he travelled to the United States of America, and saw the works of the music legend displayed in a shop in New York.
"His music teaches the totality and essence of life as well as living. Obey's music has moved beyond Nigeria to the global community. The occasion of your birthday is an opportunity to reflect on the profound impact that you have made, not just on your generation, but on several generations coming behind you through the instrumentality of music."
He described the Juju music maestro as "one of the living icons of Ogun State and one of those individuals who have used their talents to place the name of Nigeria on the global map for positive reasons."
"In addition to the Juju music genre in which you have created a permanent niche for yourself, your foray into gospel music was also an instant success," the governor said.
He added that he never failed to listen to Obey's music every morning before setting out for the office, saying there was always a prayer or a philosophy which could serve as driving force for his day.

Load more