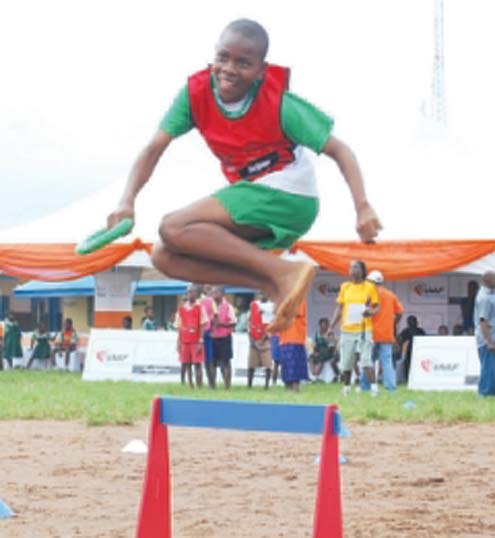 Lai Koiki, Executive Director of Greensprings School, Lagos, says the institution will continue with its outreach programmes on sports to provide opportunities for youths to learn discipline, love and unity.
Koiki made the assertion when he received the Queen's Baton Relay and the accompanying five-man team currently on tour of Lagos on Tuesday.
The proprietor said she was committed to sports development, adding that having the Queen's Baton Relay in the school's premises would enhance the promotion of sports in the school and the country as a whole.
"We had welcomed the Olympic Torch here in our school and now having the Queen's Baton Relay here gladdens my heart.
"Our school is the only school in Nigeria affiliated to the Nigeria Olympic Committee. We will continue to support sports to improve the nation's medal hauls at tournaments.
Koiki thanked parents and guardians who encouraged their children to be involved in sports.
Former Super Eagles Captain, Nwankwo Kanu, whose foundation was partnering with the school in his annual football talent hunt, said he would always promote sports in the country.
Kanu said that he was solely concerned with making the young ones comfortable doing sports.
Gideon Sam, who led the five-man delegation that accompanied the Baton, urged the African continent to strive to be number one in sports.
READ: Parents advocate early sex education for kids
Sam added that to be number there were three vital things that were required.
"The number one is vision followed by having passionate persons like Kanu and centers of excellence just like Lagos State.
"I see Lagos as a viable land, it possesses all it takes for sports to thrive in Nigeria,'' he said.
The Queen's Baton Relay was also at the palace of the traditional ruler of Eguishi in Lagos State where it was welcomed with traditional dances.
The News Agency of Nigeria reports that the Queen of England, Queen Elizabeth II, flagged off the Queen's Baton Relay on March 13 in London which coincided with the Commonwealth Day.
The Queens Baton Relay departs the country on Wednesday for Kenya after a five-day tour.