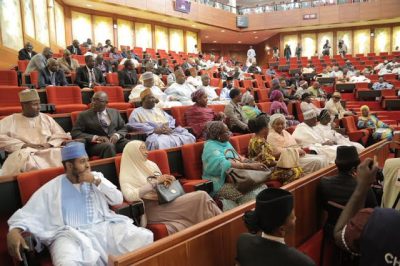 The Senate on Tuesday urged the Federal Government to collaborate with the World Health Organisation (WHO) to procure vaccines to help prevent the spread of Cerebrospinal Meningitis.
This followed a motion sponsored by Sen. Gbenga Ashafa (APC-Lagos) entitled "The Outbreak of Meningitis: Urgent Need to Curb the Spread and Stop Further Deaths".
Ashafa noted that the Nigeria Centre for Disease Control had confirmed the outbreak of Cerebrospinal Meningitis in five states with at least 282 confirmed deaths related to the disease.
"As at March 30, 1,966 suspected cases have been recorded while 109 have been confirmed and are being treated since the outbreak of the disease in February."
He noted the outbreak of the disease had affected Zamfara, Katsina, Kebbi, Sokoto and Niger states.
Ashafa observed that the outbreak has also reached the Federal Capital Territory (FCT).
"The FCT Primary Healthcare Development Board recorded four deaths in Durumi area of the Abuja Municipal Area Council (AMAC)," he said.
He noted that the vaccine needed for the prevention of the new Meningitis Stereotype C was not commercially viable and needed to be acquired through a special process coordinated by the World Health Organisation.
Ashafa called for collaboration between the Federal Ministry of Health and its related ministries at the state level, to help prevent further outbreak of the disease in other states.
The lawmaker also called for nationwide immunization of children and adults susceptible to the disease.
Contributing to the debate of the motion, Sen. Aliyu Sabi (APC-Niger) called for urgent measures to alleviate the plight of people living in rural areas as the disease was prevalent in overcrowded areas.
On his part, Sen. Tijanni Kaura (APC-Zamfara) expressed concern that Zamfara was the worst-hit and called for concerted efforts to tackle the disease.
READ: Nigeria And The Scourge Of Meningitis
"It is time for government to pay adequate attention to prevent as much as possible, future occurrences."
Also speaking, Sen. Sani Yerima (APC-Zamfara) urged the Federal Government to give states the needed support to reduce the disease burden.
In his remarks, Senate president Bukola Saraki said the motion was timely and called for prompt response, considering the deadly nature of the disease.
"We commend the Federal Government for its massive awareness and quick intervention.
"We must, however, ensure that the Ministry of Health provides adequate vaccines.
"Since the budget has not been completed, we should ensure that we provide adequate funding to support the fight against the spread of Meningitis and ensure vaccination of new born babies that may be affected," he said.
The News Agency of Nigeria (NAN) recalls that the National Coordinator, National Centre for Disease Control, Dr Chikwe Ihekweazu, on Monday decried the inadequacy of vaccine to tackle the recent outbreak of the disease in the country.