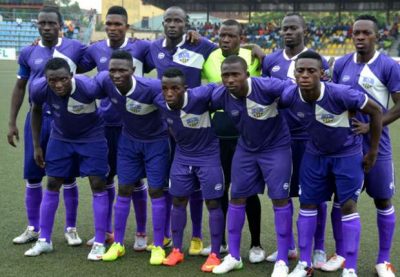 Head coach of MFM FC, Fidelis Ilechukwu, said that it would be a failure on his part if the club failed to make one of the top three positions in the league this season.
Ilechukwu disclosed this in a telephone interview with the News Agency of Nigeria (NAN) on Wednesday.
NAN reports that MFM FC of Lagos is currently third on the Nigeria Professional Football League (NPFL) log, with 30 points from 17 matches.
"If MFM doesn't make top three, for me is a failure.
"It's a failure to me as a coach because I am not playing mind games this time around.
"I have to be very straightforward and truthful concerning that.
"I know that MFM is going to make top three. I am sure of that.''
NAN also reports that the Olukoya Boys were beaten 4-0 in a Match Day 17 fixture against Nasarawa United on Sunday.
MFM went into the game confident, after defeating Abia Warriors 2-1 on March 29, but surprisingly went down by four goals in Nasarawa.
READ: Kaduna LG to establish football academies
"It was a very tough game. Our plan was to go there and get the three points, but unfortunately, we conceded too early and the game plan changed.
"The players did their best and this is why I don't want to shift the blame to the players because they did very well, but unfortunately, their performance was not rewarded," he said.
Ilechukwu, however, said he was looking to this weekend's home fixture against second- placed, El Kanemi Warriors.
He said: "I am expecting a tough game because El Kanemi Warriors are on a high after defeating Kano Pillars 1-0 at home.
"They will want to come with that determination of building on their victory and continuing on a winning run.
"But following our loss to Nasarawa United, we also will be determined to bounce back,'' he said.