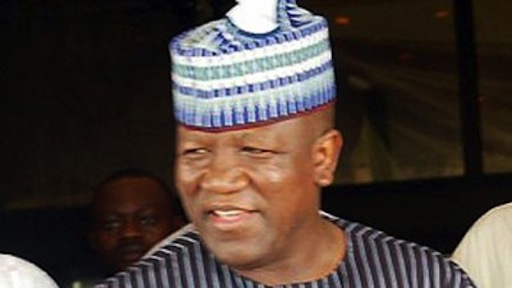 Zamfara State Governor Abdulaziz Yari has attributed the current outbreak of meningitis in the country to retributive justice from God.
The governor said the current outbreak of Type C Cerebrospinal Meningitis is God's way of punishing Nigerians for their immoral conduct.
The governor spoke in Hausa during an interview with State House reporters on Tuesday after meeting President Muhammdu Buhari.
Zamfara State is the most ravaged in the latest outbreak, accounting for 215 out of 336 deaths nationally.
"What we used to know as far as meningitis is concerned is the 'type A virus' which had been tackled through vaccinations by the World Health Organisation (WHO), the governor said.
"However, because people refused to stop their nefarious activities, God now decided to send Type C virus, which has no vaccine.
"People have turned away from God and He has promised that 'if you do anyhow, you see anyhow,' that is just the cause of this outbreak as far as I am concerned.
"There is no way fornication will be so rampant and God will not send a disease that cannot be cured," Yari stated.
"The most important thing is for our people to know that their relationship with God is not smooth. All they need to do is repent and everything will be all right."
Asked whether leaders also need to repent, he said "leaders are doing their best by enlightening the populace and working assiduously for the good of all," but that they cannot go from house to house and arrest offenders.
He said a meeting of stakeholders in the state had adopted a strategy to deal with the outbreak.
According to him, the five million doses of the vaccine announced by relevant organisations against the Type C meningitis in Nigeria "is not enough for Zamfara people alone, not to talk of Katsina or Kano".
He said Zamfara got 20,000 doses from the Federal Ministry of Health owing to the high rate of the disease in the state.
"Our Focus as a state now is to continue treating those who are infected with the disease, but as for vaccination, it has an international dimension.
"We have information that Nigeria will get the highest percentage of the 5 million doses available now. Apart from WHO, other International bodies such as the Bill Gates foundation and UNICEF are also currently focusing on how to tackle the outbreak.
FG ramps up control as death toll rises to 336
The death toll in the current outbreak rose to 336 and suspected infections figure is now 2,997, according to the Nigeria Centre for Disease Control (NCDC) latest report released yesterday.
Meanwhile the Federal Government "incidence management" response was switched on yesterday after the Emergency Operations Centre was activated on Monday.
The switch to incidence management is to "ensure that all activities across the country will be managed using a clear command and control structure led by an Incident Manager who reports through the Chief Executive Officer of the Nigeria Centre for Disease Control, to the Minister of Health," the NCDC announced.
"With this new coordinating structure, the country will have a tight, multi-partner team of experts pulled from the most competent agencies focusing on outbreak control in Nigeria," Lawal Bakare, technical advisor for communications at NCDC said.
The central command is similar to response to Ebola viral disease outbreak in 2014, but the command centre for meningitis will be headed by John Oladejo, head of emergency preparedness and response at the NCDC.
Experts from the Federal Ministry of Health, NCDC, NPHCDA, WHO, UNICEF, Africa CDC, US CDC, Medecins Sans Frontieres, AFENET, University of Maryland and E-Health Africa will have roles on different components of the meningitis outbreak—all coordinated in one place.
So far, half a million doses of Meningitis C vaccines have been distributed to affected states for immediate vaccination in response to the outbreak.
An additional 823,970 doses of the vaccine are expected from the United Kingdom to support vaccination in other affected states.
The EOC will begin state-wide vaccination today in Zamfara and then move on to 15 more states.
"We are confident that we have turned the tide, and with increasing vaccination activities, expect a reduction in number of cases," said Bakare.
"Importantly, lessons learned from this outbreak will help the country prepare for the future."
Meanwhile, the Nigeria Centre for Disease Control refused Tuesday to be drawn on comments by Zamfara state governor, Abdulaziz Yari, that the current outbreak of meningitis serotype C was the result of divine wrath on Nigerians for turning away from God.
But an official said the statement was nothing scientific but just a personal belief.
Biodun Ogunniyi, official of the NCDC, told Daily Trust, "The NCDC is a scientific organization, and what we need to do is look at the science and the facts.
"We are providing vaccine. This is science and this is how science works. In the past probably this disease was killing people and people thought there was no solution.
"The science of immunisation is a clean science that the world has tested and tested again. Vaccines work, and in this case vaccines are going to work again, and Nigeria is working hard to get the appropriate doses of vaccine into the country."
Ogunniyi said no link existed between fornication and meningitis, considering many caught in the outbreak are children.
He said a better discourse should have been to talk about sexual practice as it affects disease and its spread in Nigeria and Africa.
Daily Trust