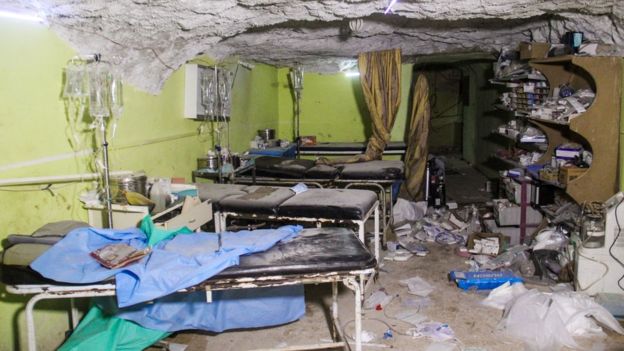 Russia says that chemical gas that killed and injured dozens of civilians in a rebel-held town in northern Syria came from rebel weapons on the ground.
Its defence ministry acknowledged that Syrian planes had attacked the town of Khan Sheikhoun in Idlib province.
But it said the aircraft had struck a depot producing mines filled with a poisonous substance, for use in Iraq.
The US and others said Syrian planes had dropped chemical weapons, which Damascus denied.
UK Foreign Secretary Boris Johnson responded to the Russian statement by saying: "All the evidence I have seen suggests this was the [Syrian President Bashar] Assad regime… using illegal weapons on their own people."
UK-based monitoring group the Syrian Observatory for Human Rights put the death toll in Khan Sheikhoun at 72, including 20 children.
Footage from the scene showed civilians, many of them children, choking and foaming at the mouth. Witnesses said clinics treating the injured were then targeted by air strikes.
Some of the victims were treated across the border in Turkey. One woman in hospital said: "We were affected by the gas. We couldn't stand up. I felt dizzy and sick. I suffer from shortness of breath. I couldn't breathe."
The issue will overshadow a conference due to get under way in Brussels, at which 70 donor nations will discuss aid efforts in Syria. Delegates want to step up humanitarian access for thousands of civilians trapped by fighting.
The UN Security Council is also due to hold emergency talks following the incident.
'War crime'
"Yesterday [Tuesday], from 11:30am to 12:30pm local time, Syrian aviation made a strike on a large terrorist ammunition depot and a concentration of military hardware in the eastern outskirts of Khan Sheikhoun town," Russian defence ministry spokesman Igor Konoshenkov said in a statement posted on YouTube.
"On the territory of the depot there were workshops which produced chemical warfare munitions."
He said the chemical munitions had been used by rebels in the city of Aleppo last year.
"The poisoning symptoms of the victims in Khan Sheikhoun shown on videos in social networks are the same as they were in autumn of the previous year in Aleppo," he added.
-BBC