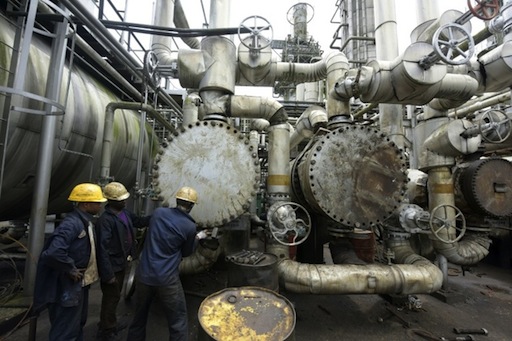 The Oil and Gas Trainers Association of Nigeria (OGTAN) on Wednesday called for the domestication of training of Nigerian engineers and workers in the oil and gas industry to guarantee local content development.
The OGTAN's president, Dr Mayowa Afe, spoke at a news conference in Lagos to sensitise stakeholders on the forthcoming inauguration of the association's national executive council slated for April 13.
Afe said, "OGTAN will participate in the 2017 Offshore Technology Conference (OTC) in Houston, Texas.
"This is to enable our members to interact with the international training organisations with the aim of partnering with them in other to domesticate more oil and gas trainings in Nigeria.''
According to him, there is need to standardise training to get more values.
"Training should be domesticated to handle issues that are peculiar to our environment and generate adequate human capital for oil and gas industry.
"We want to discourage portfolio trainers, that is people who just walk into the companies to organise trainings; invite trainers and after that, walk away," he said.
Afe said that OGTAN's vision was to develop a Nigeria oil and gas training business group that interfaces with the operators, international organisations and government.
"The association's goal is also to ensure a total human capacity development in the industry.
"The attainment of the Nigerian content goal was achieved with the support of the Nigerian Content Division of the Nigerian National Petroleum Corporation (NNPC).
"This is to address the manpower development needs of the Nigeria oil and gas industry.
"lf majority of oil and gas training is done locally in Nigeria, it will address the issues of foreign exchange challenges confronting the sector.
"The issues of dollars denomination should be addressed through local domestication of companies.
"Government agencies, institutions, international oil and gas companies should partner with OGTAN to invest in developing trainers in the country,'' he said.
READ: Malabu Oil Scam: FG Seeks Arrest Warrant Against Adoke
Afe said that OGTAN, being an independent umbrella group of training service providers in the oil and gas industry, was established by the Nigerian Content Development and Monitoring Board (NCDMB) Act in 2010.
According to him, OGTAN represents the Education and Training Sectorial Group of the Nigerian Content Consultative Forum (NCCF) under Section 58 of the NOGICD Act, 2010.
"The purpose is to build local human capital capacity in the Nigeria Oil and Gas industry,'' he said.
Afe said that the objective of the association was to create an enabling environment for in-house training and awareness geared toward effective domestication of capacity to drive local content.
He said that the association would facilitate implementation of total compliance with the local content requirements through effective human capacity development strategies in line with the Federal Government directives and applicable laws.