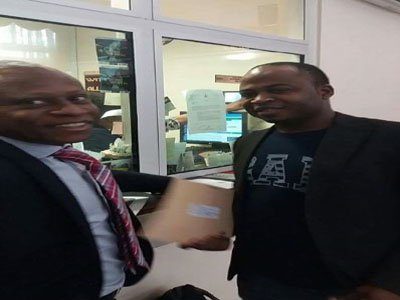 On Monday the Nigerian well-wisher, Akinjide Ajisafe, who dropped a goodwill card and flower for President Muhammadu Buhari in February, when he was in London on medical vacation received a thank you letter in return.
Buhari sent the letter through the Nigerian High Commission, London. The letter was signed by a special assistant at the Presidency, Abuja, Mr. Sabiu Yusuf. It was delivered by the Administrative Officer at the high commission, Mr. Raphael Orisamakin to Ajisafe.
It reads: "I write on the directive of his Excellency, President Muhammadu Buhari to acknowledge with thanks the receipts of your goodwill message sent to him while on medical vacation in London.
Mr. President sincerely appreciates your concern and support and especially your good wishes and prayers for his quick recovery. I am pleased to inform you that Mr. President arrived Nigeria safely and has resumed office to continue his duties and stands resolute in the pursuit of rebuilding Nigeria.
While Mr. President continues to count on the support and the prayers of well-meaning Nigerians in Diaspora like you, please accept the assurances of his Excellency's warm personal regards." Ajisafe had previously wished the president to get well quick. The Nation reports.
He wrote: "May the prayers and blessings of good health I am sending with these flowers make you stronger and healthy. "Mr. President, I am sure if you have looked outside, right in London, the sun of Allah is shining and he is telling you to get well.
Many are so eager to have you back, especially in terms of the stability of the country. I hope this little card and flower help a little to know how lovingly you are thought of by many of us in UK. "May Allah continue to guide, bless and direct you to the right path."