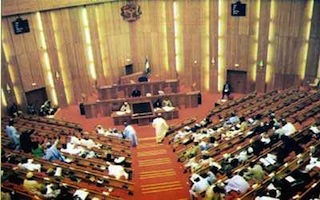 The Peoples Democratic Party  (PDP) Senate Caucus on Thursday dispelled newspaper publications insinuating disunity among member of the caucus.
The group, in a statement by its spokesperson, Sen. Enyinnaya Abaribe, in Abuja said that the claims of growing rift within its fold were unfounded.
It said that the caucus was united and would continue to work harmoniously with leadership of the Senate in the interest of Nigerians and deepening of democracy.
It, however, said that it would not shy away from carrying out its constitutionally guaranteed role as a coordinated and responsible opposition on the floor of the Senate.
READ: Senate asks finance minister to release N15bn for Amnesty Programme
"The PDP Senate Caucus is united and we have resolved to continue to speak with one voice more than ever before.
"We can assure you that there is no crack in our fold. We have rather solidified our base with the aim of offering the desired opposition in the interest of our people.
"The caucus will work harmoniously with leadership of the Senate for the enthronement of good governance and the preservation of the sanctity of the Senate as an institution,'' the statement added.

Load more