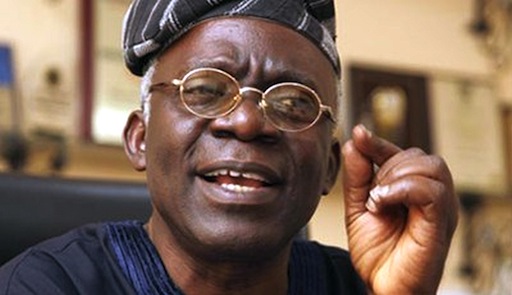 Human rights lawyer, Mr. Femi Falana SAN, has announced his resignation from the editorial board of ThisDay newspaper following the publication of a report by the newspaper which he described as "a figment of the imagination of its writers."
The Senior Advocate of Nigeria explained in a statement that he took his decision after the paper published "without any factual basis" on April 3 that he influenced the appointment of Mr. Ola Olukoyede as Chief of Staff to the Acting Chairman of the Economic and Financial Crimes Commission, EFCC.
Falana said, "As the tendentious publication could not be justified, I was compelled to resign my membership of the editorial board of the newspaper.
"In a desperate bid to blackmail me, the forces of corruption who are using the newspaper to fight back proceeded to allege that Mr. Olukoyede was a lawyer in my office and that I seconded him to the EFCC.
"It was also alleged that the EFCC had given me one of the properties forfeited to the Federal Government by ex-governor DSP Alamieyeseigha."
He, however, said Olukoyede never worked in his law firm and that he only met him for the first time about two years ago.
"Having not known him or worked with him closely, I could not have recommended him for any position of responsibility either in the EFCC or in other public office," Falana said.
He also rubbished the claim that the EFCC handed a property to him, saying, "The second allegation is equally a figment of the fecund imagination of the fictitious writers in ThisDay newspaper."
The human rights lawyer stated that though the address of the property allegedly given to him by the EFCC is not stated, it is public knowledge that all the funds and other assets forfeited by the late governor were handed to the Bayelsa State government sometime in 2010 by the then management of the EFCC.
He added, "Based on my belief in public accountability, I have never said that the properties recovered by the EFCC should not be investigated."
Falana urged members of the public to disregard the report "of the reactionary elements who are hell bent on diverting the attention of Nigerians from the mega looting of our commonwealth by a coterie of plutocrats."
The Will