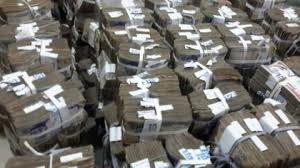 The Economic and Financial Crimes Commission (EFCC) is trailing the owner of N448.85 million discovered in a shopping plaza in Lagos State, spokesman of the commission in Lagos, Mr. Sam Amadin said.
In an interview on Saturday, Amadin said the agency was making efforts to reach the owner of the complex, with a view to knowing who rented the said shop 64.
"The shopping plaza, from preliminary investigation, was built by estate developers. From the developers, we will get the owner of the money.
"The people around the complex know the owner of the money. The place has not been in use for a long time, the owner only sneaks into the place and keep the money. We will find the owner very soon, "Amadin assured.
The commission, on Friday in a statement confirmed the recovery of N448,85million in a shop at the LEGICO Shopping Plaza, in Victoria Island, Lagos.
Operatives of the commission, acting on a tip-off by a concerned whistleblower, swooped on the shopping complex and sought the identity of the owners of two shops, LS 64 and LS 67, which were under lock and key.
"The shops had the signage of a Bureau de Change. Inquiries about the owner of shop 64 indicated that he had not been seen for a long time, as neighbours claimed the shop had not been opened for business for close to two years.
"The attention of the plaza's Chairman and some traders were drawn in order to force the shops open.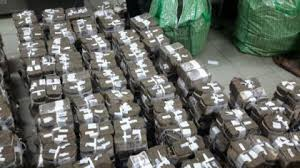 "There was no money found in shop 67, but in shop 64, heaps of Ghana-Must-Go bags were found on the floor of the shop.
"When the bags were unzipped they were found to contain bundles of Naira notes totalling N448. 85million.