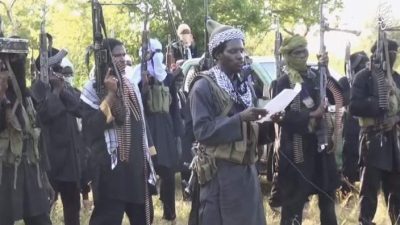 Eight persons were slaughtered by suspected Boko Haram in a village on the outskirts of Maiduguri, the Borno State capital on Saturday.
According to a source, Mohammed Abubakar (who is a neighbour of one of the slain persons, Abba Gana Terab), nine persons in a pick up van went in search of firewood for sale at a village near Molai where they met the prowling Boko Haram soldiers.
According to the PUNCH, Abubakar said they did not take to the advice of the residents of Molai that Boko Haram always prowl the area for victims who they often slaughtered.
He said: "They were warned by the villagers of occasional activities of insurgents and went ahead to search for firewood.
"They were met by the insurgents who slaughtered them and burnt their corpses."
He said: "One of the nine was lucky to flee from them and able to recount their ordeal to the people who went in search of the corpses of the slain eight."
He lamented that "one of the dead is a neighbour whom we held funeral prayers for after 7pm on Saturday."