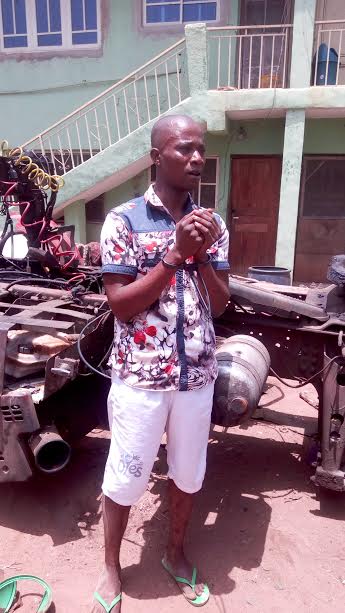 By Kazeem Ugbodaga
Operatives of the Rapid Response Squad, RRS, Lagos State have arrested a driver who connived with three other persons to divert his company 600 bags of flour before dismembering the truck for sale in pieces.
The suspect, Garuba Lawal, 36, from Kwara State connived with three others now at large and diverted the 600 bags of flour to Sagamu, Ogun State. The product was thereafter given out to a buyer, while he took the truck to Ilorin, where it was dismembered and sold in pieces.
Garuba, who was recruited by the company (name withheld) the same day to move the 600 bags of flour to a bakery in Ibadan, Oyo State, was baited with N2 million by his accomplices to do their bidding.
The suspect, in his statement to the police disclosed that after loading on Sunday, at the Nigeria Flour Mills in Apapa, a young man, whose name was later given as Ismaila from Oyo State, approached him for discussion.
"He invited me close to my truck, just as I was about to drive it out of the loading bay. He asked me how much I have made since I have been driving truck. I replied that I just joined the haulage company.
"He asked again, have you ever seen money in your life? I said no. He asked me again, if you see N2 million, what would you do with it? I answered that I would quit this truck driving job. Then, he told me that he would introduce me to a deal. That was how we started."
Garuba continued: "while his two other colleagues were waiting in the Toyota Corrolla they brought, he took me to a corner and brought a cowrie. He told me that I would have to swallow the cowrie as a sign of bond that anybody that divulge the secret between us would die instantly.
"I took the cowrie and swallowed it. Immediately I did that, I observed that whatever instruction he gave me, I was just obeying it without a second thought".
According to sources, Garuba, in company of the three accomplices diverted the 600 bags of flour to Sagamu instead of its scheduled destination on a Sunday night and getting to Sagamu around 2:25 a.m on Monday.
"We entered Sagamu. It was very early in the morning and I couldn't identify anywhere so much. All along, they acted as escort for the truck to Sagamu. One of them was in the truck with me because the motor boy didn't follow us".
The source added that at Sagamu, Garuba was informed that the head of the truck had to be removed because it could not enter the warehouse the goods were to be offloaded.
"We put a new truck head and they gave me N50,000. We agreed, I drove the truck head to Kwara State in company of two other member of the team to sell it off. We got to Ilorin around 7:15 a.m. on Monday. I took the two guys to where I live with my wife. They promised to return with my share of the N2 million as soon as the bank is opened. They collected N15,000 for hotel accommodation from the N50,000 they gave me.
"When I didn't see them that day and the following day, I agreed with a buyer to knock down the truck into pieces. The tyres, engine, radiator, chasis etc for N450,000. After, we had dismembered it, the Rapid Response Squad of Lagos arrested me".
Sources at the haulage firm disclosed that they were yet to see the motor boy that followed him on the said trip. This has fuelled  the suspicion that the motor boy might have been killed by the gang to pave way for a seamless execution of their plans.
Garuba insisted that the motor boy didn't follow them on the trip. The motor boy's phone has remained switched off since the incident.
Investigation revealed that the gang that diverted the flour were the same gang which had been involved in several diversions of other products.
Arrested along with him were Jimoh Adeleye, Wasiu Azeez and Adeniran Jacob.
 Confirming the development, the Police Public Relations Officer, Assistant Suprintendent of Police, ASP Olarinde Famous Cole, said that there would be no hiding place for those who come to Lagos to perpetrate crime, adding that the police would fish them out of their hiding places.
The suspects have been transferred to the State Criminal Investigation Department for further investigation and prosecution.