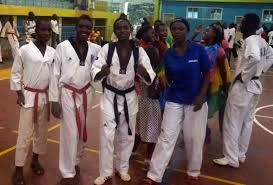 The Electronic Scoring System (ESS) will be used in the 2017 Agoma Open Taekwondo Championships to bring national athletes at par with current global trend, the organiser says.
The Coordinator of the championships, Emmanuel Oghenejobo, told the News Agency of Nigeria (NAN) on Monday in Lagos that the ESS had been in use globally against the manual scoring system.
Oghenejobo said that arrangements had been concluded to use the system at the championships from May 10 to May 13 at the Sani Abacha Stadium Indoor Sports Hall, Kofo Mata, Kano.
"The ESS is the latest method of assessing athletes' performances at continental and intercontinental competitions; so, we deem it necessary to apply the system in major national tournaments.
"Agoma Open championship is one of the highly related national championships, so we have concluded arrangements for the ESS to be used for the first time since the inception of the competition in 2001,'' he said.
He urged taekwondoists who were aspiring to take part in the three-day tournament to sharpen their skills in Kyorugi, Poomsae, Kyokpa events that would be featured.
Oghenejobo said that registration was open for all weight categories in the male and female and that the response so far had been encouraging.
READ: PFN: We want to upgrade a premier league
According to him, the championships were extended to athletes from neighbouring countries, adding that Ghana and Niger has registered and confirmed their participation.
"The events are not new to participants but they need to up their preparation because the standard of the competitions has been raised to global standards.
"A lot of states, individuals and clubs have registered their interest accordingly, and we are ready to accommodate more participants who have yet to register,'' he said.
The 1992 Barcelona silver medalist in the heavyweight category boasted that the competition which was his initiative had contributed to the development of taekwondo in the country.
He added that the championships approved by the Nigeria Taekwondo Federation (NTF) would be hosted by Kano State Taekwondo Association (KSTA).
NAN reports that the championships which started in 2001 featured Taekwondo, Karate, Kickboxing, Wushu Kungfu and Kickboxing but was restricted to taekwondo only from 2016 until date.

Load more