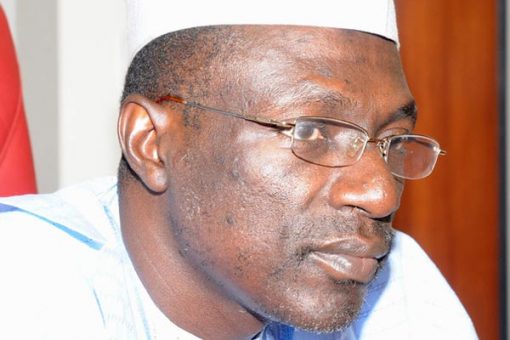 The National Caretaker Committee of Peoples Democratic Party (PDP) has urged party members across the country not to attend any meeting convened by Sen. Ali Modu Sheriff, Chairman of the party.
Chairman of the committee, Sen. Ahmed Makarfi, made the call in a statement by the committee's Publicity Secretary, Mr Dayo Adeyeye, on Monday in Abuja.
He said that Sheriff's team was illegal and had no place to function in PDP, adding that the caretaker committee remained the only authentic national executive of the party.
He said that the committee remains authentic in line with the decision of the May 21 2016, and August 17 2016, National Conventions of the party.
"Regarding the purported campaign or mobilisation by the non-existing National Working Committee under Sheriff, we wish to further state without any ambiguity that its actions are illegal, null and void.
"Faithful party men and women in the South-East and any other zone in Nigeria should disregard such meetings or gatherings.
"The National Caretaker Committee led by Makarfi has appealed the Judgment of February 17, 2017, at the Supreme Court.
"In the eyes of the law, until the Appeal is set aside by the Supreme Court, the National Caretaker Committee remains in charge of the affairs of the PDP.
"So, Sen. Sheriff and his co-travellers have no power to call for any meeting of party members or supervise the affairs of PDP forthwith.'' Makarfi said.
Makarfi therefore called Sheriff to stop parading himself as the National Chairman of the PDP.
"We further call on all security agencies and other agencies of the government to stop according to him or members of his illegal team any support or assistance.''
Makarfi also condemned a statement credited to Cairo Ojougboh, the former National Vice-Chairman that Sheriff "will not accept stolen monies from Governors Ayodele Fayose of Ekiti State and Chief Nyesom Wike of Rivers."
Makarfi said that Ojougboh had no locus to speak in the capacity of Deputy National Chairman of the party.
"Ojougboh is an interloper and an impostor; and as such, any action or statement made by him and other self-appointed members of the Sheriff renegade group is illegal.
"It is null and void and should be disregarded by all loyal supporters and members of the PDP.
"Let these irritants take note that Governors Fayose and Wike and indeed all Governors elected on the Platform of our great Party are men of integrity.
"Our Governors are responsible and trusted Party men that are working tirelessly in their various states to deliver the needed dividends of democracy.
"The people of Rivers State and Ekiti State can testify to the wonderful achievements of our Governors in their states and other states governed by the PDP.''

Load more