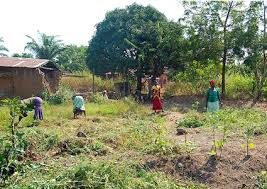 Sandamu Local Government Council in Katsina State says that 500 dry-season farmers have benefited from a N10m loan, initiated to boost food and cash crop production in the area.
Alhaji Sada Isah, the Acting Chairman of the council, said this in Katsina on Monday, while speaking on the council's activities.
He said that the loan was a special credit facility, which was introduced by Katsina State Government and Al-Dusar, a Katsina-based tomato processing company, to support farmers to produce more food and vegetables.
READ: FAO: Measures must be taken to address plight of farmers in north-east
"The company has also indicated interest to purchase all the vegetables produced by the local farmers in Sandamu.
"In fact, they have placed a daily order for five truck-loads of crops produced by the farmers so that their produce will not be wasted,'' he said.
Isah said that the company was also responsible for the provision of seedlings and farm inputs to the farmers so as to enable them to have good yields that would satisfy its demand.
"The state government has provided enough fertiliser for all dry-season farmers in our area in order to boost their productivity,'' he said
He commended the state government and the company for assisting farmers in the area.