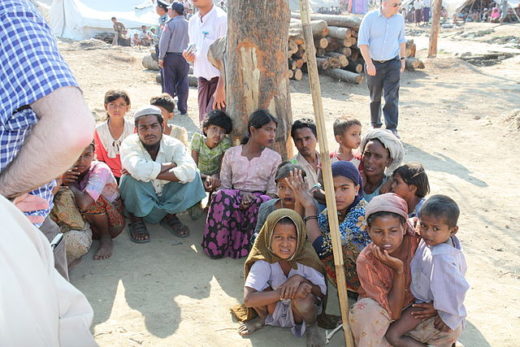 A top official of the UN children's fund (UNICEF) on Monday sought the immediate release of Rohingya children detained in a Myanmar army crackdown on the Muslim minority.
It was reported that children as young as 10 were among hundreds of Rohingya detained on charges of consorting with insurgents.
Thirteen juveniles were among more than 400 arrested since Oct. 9, when insurgents attacked three police border posts in northern Rakhine State near the frontier with Bangladesh, according to a document obtained by Reuters.
The attacks by a previously unknown insurgent group ignited the biggest crisis of leader Aung San Suu Kyi's year in power, prompting more than 75,000 Rohingya to flee the ensuing army crackdown to Bangladesh.
UNICEF country representative to Myanmar, Bertrand Bainvel, in a statement: "the issue was discussed in high-level meetings and UNICEF felt encouraged that the issue was known to authorities, who spontaneously shared their concerns and willingness to take action."
Bainvel said that UNICEF's deputy executive director, Justin Forsyth, discussed the children with Suu Kyi and army chief Min Aung Hlaing during his recent visit to the country.
There was no clear information on whether or when the children were likely to be released.
A UN report issued in January said Myanmar's security forces had committed mass killings and gang rapes against Rohingya during their campaign against the insurgents, which may amount to crimes against humanity.
The military has denied the accusations, saying it was engaged in a legitimate counterinsurgency operation.
The United Nations agreed last month to send an international fact-finding mission to investigate the allegations.
Myanmar has opposed the move.
The Southeast Asian nation has ratified international conventions that require additional protections for children accused of crimes.
Reuters was unable to establish whether all those provisions, such whether they have been able to communicate with their families or have legal representation, were being followed.
Domestic law says children between seven and 12 are only criminally responsible if mature enough to understand the consequences of their actions.
Two listed detainees are under 12, while two are 13.