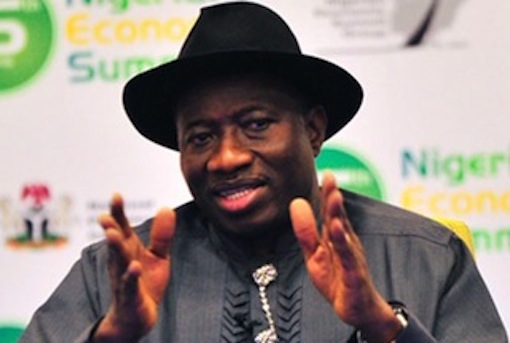 Ex-President Goodluck Jonathan has appealed to Nigerians to count him out of the $200m bribe Malabu oil scandal.
Jonathan said he didn't receive any $200 million as proceeds from the Malabu oil deal.
His media office denied the allegation published by gossip website Buzzfeed on Tuesday.
Jonathan's Media Adviser, Ikechukwu Eze, described the allegation as false and one more in the series of fake news sponsored by those threatened by Dr. Jonathan's continuously rising profile in the international community.
Eze noted that common sense should have shown the purveyors of the slander that the Malabu oil deal far predated the Jonathan regime and it would only make sense for him to be bribed if he had a time machine to go back in time to when the deal was struck.
He said that the report relied on hearsay evidence from a man of questionable character who provided no substance to back up his false claim.
"The man quoted by the report said he 'assumed' that Dr. Jonathan would
be bribed. Since when has the assumption of a crook been enough to smear the reputation of a patriot and international statesman like Dr. Goodluck Jonathan?
"The report also wrongly claimed that "Jonathan and Etete had known each other for years, according to Shell staff, when Jonathan served as a tutor to Etete's children while he was a minister." This claim is clearly ridiculous and nothing can be further from the truth.
"In the first place, the former President couldn't have been a 'tutor' to Etete's children without first establishing contact with the family. This is because Jonathan met Etete who served as the Petroleum Minister in Gen. Abacha's military regime for the first time under the succeeding civilian administration, when he was already the deputy Governor of Bayelsa State. Even then, the fact remains that ex-President Jonathan has never met any of Etete's children.
"Besides, Jonathan couldn't have been anybody's private tutor during that period, because he was already in the directorate cadre in Oil Mineral Producing Areas Development Commission, OMPADEC (now NDDC), having already left the academia, at the time Etete was a serving minister.
"This story, coming so soon after the fake news that Dr. Goodluck Jonathan refused British help in rescuing the Chibok Girls (a story that the British Government debunked) and that he plans to contest the 2019 elections (another lie), proves that these fallacious stories are deliberately contrived for reasons that are yet to be publicly disclosed.
"It is instructive that this same old fable apparently intended to rubbish Jonathan's name locally and internationally, is being recycled with more lies added to garnish the narrative, at a time the ex-President is making efforts to resolve the issues in the People's Democratic Party (PDP).
"Again, let us point out for clarity and for the umpteenth time that while he was in office and now that he is out of office, former President Jonathan did not open and does not own any bank account, aircraft or real estate outside Nigeria. Anyone with contrary information is challenged to publicly publish same," he said
The former President appealed to the media to report facts rather than innuendo and gossip.
He reminded the media that he signed the Freedom of Information Act into law and that it is only fair to use it to investigate allegations in order to establish the truth.
Eze noted further in the statement that Jonathan cannot stop criminals from 'assuming', but that he can and he will stop them from getting away with blatant lies.