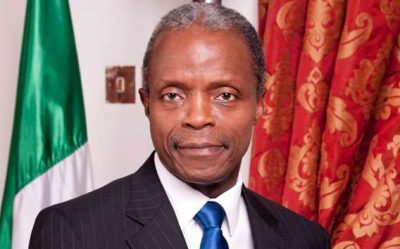 The Presidential Amnesty Programme (PAP) office, has confirmed 236 ex-agitators from Abia as beneficiaries of its amnesty scheme.
The programme coordinator, (retired) Brig.-Gen. Paul Boroh, made this disclosure in a statement issued on Wednesday in Abuja.
Vice President Yemi Osinbajo recently directed that youths from Abia and Imo must be included in the scheme.
According to the vice president, their participation in the programme would help in reducing youth restiveness in the oil producing areas.
He added that social and economic activities would be allowed to thrive with the engagement of youth in the area.
Boroh, who is also the Special Adviser to the President on Niger Delta Affairs, said the exercise was conducted by his office with the Senior Special Adviser to Abia state Governor on Niger Delta Affairs in the state, Mr Kingsley Nna, in Port Harcourt and Okrika.
Boroh said that the 236 indegenes of Abia are currently beneficiaries of the programme in a document that was handed over to him on assumption of office in June 2014.
He explained that no disarmament took place in Abia in 2009 when Amnesty was pronounced by the then President Umaru Musa Yar'adua for ex-militants in the region.
The Presidential aide said youths from different parts of the country, who carried arms at the time in various camps in Rivers and others states were disarmed.
He said the verification which had a massive turn up of over 200 ex-agitators from the Abia were confirmed after series of identification process in the state.
The Coordinator noted that over 80 per cent of the beneficiaries have received training and empowerment and pledged continuity in training and empowerment.
He disclosed that over 150 of the ex-agitators were disarmed in High Chief Ateke Tom's camp, while others were disarmed from the camps of Fara Dagogo, Soboma George, Burst line and among others.
Boroh said the exercise is also in line with government's commitment to ensure indegenes of oil producing areas benefit from plans designed for youth empowerment.
The statement also quoted Nna, who described the verification as a fact finding mission to ascertain the true state of things as it concerns Abia indigenes and the programme.
He said it is an ongoing process which is expected to develop Abia indigenes through the Amnesty Programme.
He emphasised that their interest and others who disarmed were paramount and the verification necessary for proper identification in order to give the programme a human face.
Nna promised that all would be carried along and no one would be regarded as ghost beneficiaries.