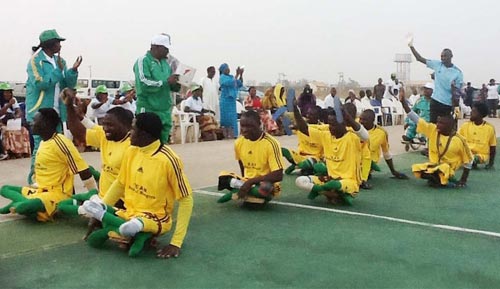 Nasarawa state's para-soccer team on Tuesday in Abuja defeated their Kebbi counterparts 2-0 at the ongoing 2017 National Para-Soccer League.
The News Agency of Nigeria (NAN) reports that the second edition of the National Para-Soccer League which started on April Thursday is expected to end on April 18.
In the match played at the Old Parade Ground, Nasarawa team were totally in control of the game in the first half.
Bala Dahiru of Nasarawa State opened scoring in the 9th minute of the game, while Muhammed Husseni doubled the lead a minute later.
Kebbi state team displayed a good performance in the first half but failed to utilise their scoring chances.
On resumption of the second half, both teams fought hard to score, but their efforts yielded no fruit.
Speaking after the match, the Head Coach of the Nasarawa state team, Haruna Mohammed, said he was happy that his team won.
READ: Federation President Lauds Para-Taekwondo Athletes Performance In Rwanda
"I was expecting them to play better than this and to score more goals, because my players are stronger than their opponents.
"I am happy they won the game and the two points is what matters to us,'' he said.
The coach of Kebbi, Umar Shekare, on his part said he was disappointed with his team's loss.
"This is the fourth game we are losing. I'm not impressed with my team's performance. My players fought well, but it was unfortunate they could not utilise their scoring chance.
"We need to go back to the drawing board and work more. I need to teach them what to do when they have the ball and what to do when the ball is with their opponents.
"However, we will do better in our next game to ensure a win," he assured.
NAN reports that in the first match of the day at the competition, Yobe walked over Osun, and received two points without playing.
In the third game, Kano thrashed Zamfara 7-0 while in the last match of the day Kaduna drew 2-2 with Plateau .
NAN reports that nine teams are taking part in the second edition of the National Para-Soccer League.
The participating teams are from Kano State, Osun, Nasarawa State, Zamfara, Katsina State, Kebbi, Kaduna State, Plateau  and Yobe.