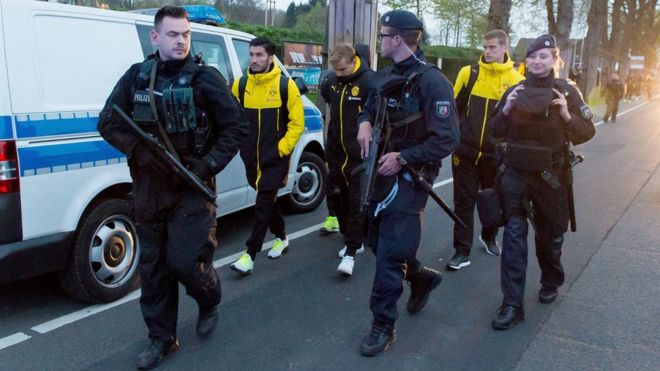 German police are investigating a possible Islamic extremist link to the bombing of the Borussia Dortmund football team's bus, German media say.
A letter found near the scene cites the Berlin Christmas market attack and military operations in Syria.
It is not yet clear if the letter is genuine.
Meanwhile, German federal prosecutors, who normally lead investigations related to terrrorism, are taking over the probe.
German newspaper Sueddeutsche Zeitung said the letter, beginning with the phrase "in the name of Allah", mentioned Germany's use of Tornado jets in the coalition forces fighting so-called Islamic State (IS).
IS said it carried out the attack on a Christmas market in Berlin.
But it is possible the perpetrators are deliberately trying to mislead the investigation, Sueddeutsche Zeitung reported, adding that an analysis of the letter by experts is under way.
The German news agency DPA also reported there is a second letter circulating online, claiming an anti-fascist group had carried out the attack.
The second letter, posted on an anti-fascism online portal, claimed the attack was motivated by the club's alleged tolerance for racists and right-wing fans. The club has clamped down on such fans in the past.
What happened?
Borussia Dortmund were on their way to their home Champions League quarter-final match against Monaco, when "three explosive charges detonated", police said.
Pictures from the scene showed the bus's windows broken and tyres burst in the blasts.
Player Marc Bartra underwent an operation after breaking a bone in his wrist. No other players were hurt, but a police officer on a motorbike escorting the bus was also wounded.
In a news conference, the head of Dortmund police said it was a targeted attack. Several reports said the explosives had been hidden in a hedge.
Dortmund goalkeeper Roman Burki told Swiss news outlet Blick that the bus had turned on to the main road when there was a loud noise.
The players ducked to the floor of the bus, not knowing if there would be any more, he said.
-BBC