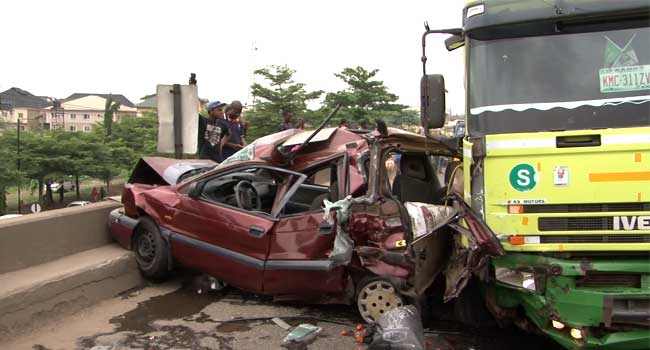 The Dean, School of Basic Medical Sciences at the Federal University, Ndufu-Alike Ebonyi, Prof. Robert Nneli is dead.
He died in one of the two accidents recorded Thursday night at the notorious 131 junction of the Abakaliki-Enugu federal highway.
Nneli, 69 years old, joined the University in 2012 after spending close to 20 years at Abia State University.
He was educated at St. Patrick's Secondary School Emene in Enugu and the University of Calabar.
Mrs Stella Uchendu, Sector Commander of the FRSC in Ebonyi confirmed the two accidents in an interview.
She said both accidents occurred between 9 and 11pm.
According to her, it was raining heavily when the accidents occurred and attributed them to possible reckless driving, over-speeding and poor visibility.
"In the first accident, the articulated vehicle's driver blinded with his headlight the driver of the white-coloured Toyota Camry vehicle which made him lose control as he was on top speed.
"The vehicle then veered off its lane and collided with the on-coming articulated vehicle. The car was crushed by the truck.
"The professor died in the accident as his son and another occupant sustained serious injuries and are receiving treatment at the Federal Teaching Hospital, Abakaliki.
According to Uchendu, the second accident involved an SUV with five occupants which also crashed into stationary articulated vehicle due to over speeding and poor visibility.
"When we concluded our evacuation, the police men on duty told us that they would tow the articulated vehicle off the road but they never did.
"The SUV apparently crashed into the articulated vehicle as all its five occupants died and their corpses evacuated to the Federal Teaching hospital Abakaliki," she said.
She commended her officers for their prompt response to the crashes and urged motorists to always obey traffic regulations.
"Motorists should ensure that when they are confronted with headlights from oncoming vehicles, they should reduce their speed and keep to their right side.
"Motorists should also avoid night travels, driving under the rain and ensure they obey road regulations to save lives,"
A witness disclosed that the drivers of the Camry and the SUV were to blame for driving recklessly under the rain.
"The FRSC should increase its enlightenment of motorists especially on night journeys and driving under the rain, in order to check the incessant loss of lives on the road.
DSP Jude Madu, the Ebonyi Police Command's Public Relations Officer (PPRP) absolved his men of any complicity by failing to tow the articulated vehicle.
He blamed the FRSC for failing in its duty.
"No police officer would reject an offer of assistance to tow vehicles off the road, in order to save lives as my officers stayed on the road till day break to enforce law and order.
"They even signaled to approaching cars to divert to the other lane of the road but most drivers including that of the SUV, failed to heed to the diversion signals," he said.