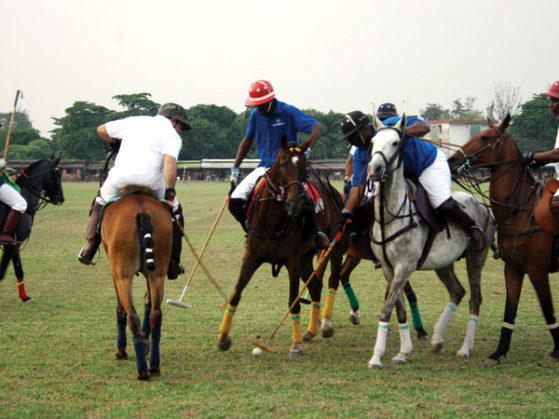 Francis Ogboro, the President, Nigeria Polo Federation (NPF) on Friday expressed delight at the new polo facility in Argungu.
NSK Farms is hosting the Argungu Polo Tournament at its newly built polo field.
The tournament which is the maiden edition is being organised by Alhaji Nura Sani Kangiwa, who doubles as the Turakin Kebbi and the patron of NSK Farms.
The tournament which galloped off on Friday is expected to end on Sunday.
Ogboro, who was one of the guest of honour at the event, said that the building of such a great edifice in Arugungu was indeed a plus to the NPF.
"It's encouraging to see polo players embarking on projects like this and it gladdens my heart because this helps to promote the NPF.
"I have come all the way from Lagos just to show my support to Kangiwa for this very laudable project.
"What it means is that there will be additional polo players that will join the already large pool the NPF have.
"I am very happy with the facility here; you can see the club house coming up and the field which is a full-sized field for the game of polo.
"It indeed boasts of all the space required to build an international standard polo field.
"With time, all the other amenities will be in place I'm sure by the time we come here for the next tournament, what we have seen will be even much better.
"I am truly impressed," he said.
Also, Alhaji Isma'il Muhammed Mera, the Emir of Argungu hailed Kangiwa for his contribution to the Argungu community.
"I think Turaki (Kangiwa) has done very well. He has indeed put in a lot of his personal effort and resources to make this dream become a reality.
" He mentioned this to me about 16-18 months ago and I gave him my 100 per cent support from the onset up to this point.
"We were here when he was in the process of trying to get all these facilities off the ground and l I want to congratulate and commend him.
"So, it is our sincere pleasure to see this come to fruition. It is a very good effort.
"Polo is here and has come to stay in Arugungu and we are all happy," he said.
The Argungu polo tournament got off to a flying start as Zaria West Stream, Argungu Mera Farms and Keffi Iyatu farms all recorded wins in their opening games.
Zaria West Stream defeated IGP Strikers 71/2 – 3 in the battle for supremacy in the Emir's Cup, while Argungu Mera Farms beat 12/12 Dogonyaro Farms 71/2 – 5 also in the Emir's Cup.
It was, however, a one-sided affair as Keffi Iyatu Farms whitewashed Sokoto Governor's team 7-1 in the race for the Shehu Kangiwa Cup.
Other activities to mark the opening ceremony were cultural dances and displays, camel race, among others.
Guests are the event were, the NPF President, Francis Ogboro, the Emir of Argungu, His Royal Highness, Alhaji Isma'il Muhammed Mera.
Others include some former governors, Members of Kebbi State House of Assembly, Senior government officials, the diplomatic community, as well as polo enthusiasts.